Upside-down apple pie with butterscotch sauce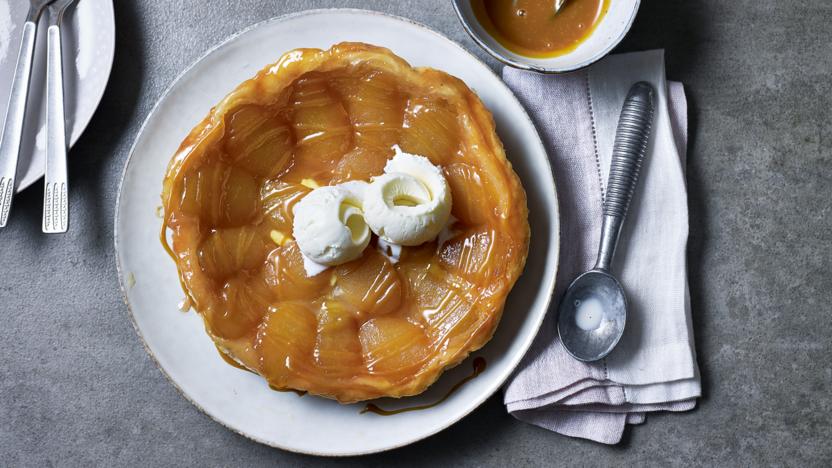 No need to make a separate caramel for this tarte tatin, just let the butter and sugar do its thing in the oven. Serve with a creamy butterscotch sauce and good vanilla ice cream.


Ingredients
For the apple pie
For the butterscotch sauce
To serve
Method
Preheat the oven to 180C/160C Fan/Gas 4.

In a 20cm/8in ovenproof frying pan, arrange a layer of butter cubes and using a spoon squash the cubes to form an even layer. Sprinkle over the sugar, covering all the butter. Arrange the apples on top.

Roll out the pastry on a lightly floured surface to the thickness of a pound coin. Cut out a circle slightly bigger than your frying pan. Place the pastry on top of the apples and gently push down at the edges all the way around the pan. Bake for 1 hour, or until the puff pastry is crisp. Remove from the oven and leave to cool.

To make the sauce, heat the muscovado sugar with 30g/1oz water in a saucepan, stirring until the sugar has dissolved then stop stirring and boil until a caramel has formed. (CAUTION: Boiling sugar gets very hot. Take care not to burn yourself.) Add the vinegar, cream and salt and whisk to combine. Now add the chilled butter very slowly, whisking between each addition until you have a smooth butterscotch sauce. Remove from the heat and keep warm until ready to serve.

To turn out your apple pie, warm the pan in the oven for about 7 minutes and then turn out onto a plate. Spoon over some the butterscotch sauce and serve with a generous amount of vanilla ice cream.