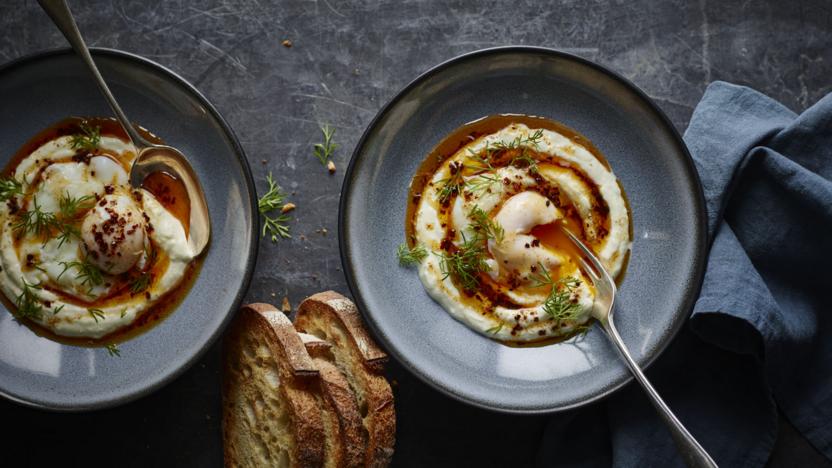 If I hadn't eaten the Turkish eggs at Peter Gordon's restaurant, I most certainly wouldn't be tempted by the idea of poached eggs on Greek yoghurt. I say that only to pre-empt any hesitancy on your part. For çilbir, pronounced "chulburr", is a revelation and a complete sensation.
Method
Fill a saucepan up to 4cm/1½in deep with water and bring to the boil. Place the yoghurt into a heatproof bowl large enough to sit over the pan and stir in the garlic and salt. Place the bowl over the pan, making sure the base doesn't touch the water. Stir until it reaches body temperature and has the consistency of lightly whipped double cream. Turn off the heat, leaving the bowl over the pan.

Melt the butter gently in a seperate small saucepan until it is just beginning to turn hazelnut-brown. Turn the heat off, then stir in the oil, followed by the Aleppo pepper and set aside.

Fill a wide, lidded saucepan with 4cm/1½in water and place over a medium heat. Line a large plate with kitchen paper.

Crack the first egg into a small fine mesh strainer suspended over a small bowl, then lift up and swirl gently for about 30 seconds, letting the watery part of the white drip into the bowl; discard. Gently tip the egg into a small cup or ramekin and pour 1 teaspoon of lemon juice onto it, aiming for the white. Repeat with the second egg.

When the poaching water is just starting to simmer, gently slide in the eggs, one on each side of the pan. Turn the heat right down so there is no movement in the water, and poach the eggs for 3–4 minutes, until the whites are set and the yolks still runny. Transfer the eggs to the lined plate using a slotted spoon.

Divide the warm, creamy yoghurt between two shallow bowls, top each with a poached egg, pour over the peppery butter, scatter the chopped dill on top and eat with the toast.
Recipe Tips
If you have an egg-poaching method of your own that you're perfectly happy with, ignore my instructions. The crucial element in creating beautifully formed poached eggs is how fresh they are, as the longer they sit after they've been laid, the more watery the egg whites become.
If you can't get the Aleppo pepper, also known as pul biber or Turkish red pepper flakes, which has a mild, almost sweet heat and a distinctive lemoniness, you could substitute paprika, adding a pinch of dried chilli flakes. But, in these days of online grocery shopping, I'd encourage you to go for the real thing.
This recipe is from...
Recipes from this episode