Turkey salad with Chinese cabbage, beansprouts and Vietnamese mint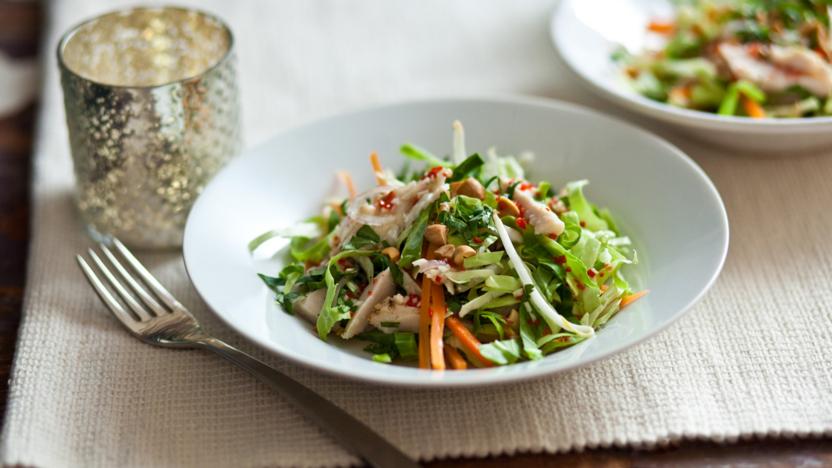 Preparation time
30 mins to 1 hour
Cooking time
less than 10 mins
This is an easy way to use up leftover Christmas turkey, plus it makes a delicious light meal to help make up for the excesses of Christmas.
Preparation time
30 mins to 1 hour
Cooking time
less than 10 mins
Ingredients
For the dressing
Method
Mix the shallots and salt in a large bowl and set aside for 30 minutes, or until softened.

Meanwhile, for the dressing, mix together the dressing ingredients in a separate bowl until well combined.

Just before serving, add the cold turkey strips to the bowl of salted shallots. Mix in the Chinese cabbage leaves, beansprouts, shredded carrot, herbs and peanuts until well combined.

Pour over the dressing, season, to taste, with freshly ground black pepper, then mix well until the dressing coats the salad ingredients.

To serve, pile the turkey salad into the centre of each of four serving plates. Sprinkle over the remaining chopped roasted peanuts.
Related Recipes
See more Christmas leftover recipes (25)
See more salad recipes (145)
See more turkey recipes (37)
This recipe is from...
Recipes from this episode