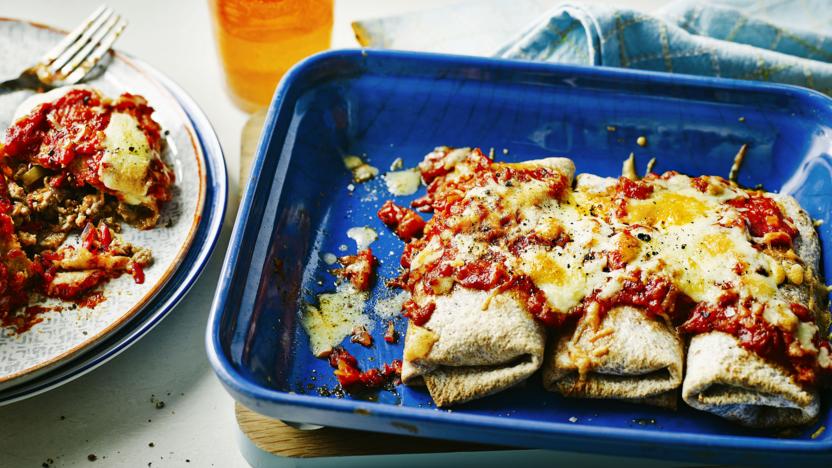 Preparation time
less than 30 mins
Cooking time
10 to 30 mins
Baking these wraps in a tomato sauce transforms them from mere sandwiches into a proper, healthy dinner.

Each serving provides 342kcal, 25g protein, 40g carbohydrate (of which 8g sugars), 19g fat (of which 8.5g saturates), 5.5g fibre and 1.5g salt.
Preparation time
less than 30 mins
Cooking time
10 to 30 mins
Ingredients
For the tomato sauce
For the turkey
Method
Preheat oven to 180C/350F/Gas 4.

To make the sauce heat the olive oil in saucepan over a medium heat. Add the onion and garlic and sauté for 4-5 minutes, until softened.

Add the passata, oregano and black pepper. Cover , reduce the heat and leave to simmer for ten minutes.

Meanwhile for the turkey, heat the olive oil in a separate pan over a medium heat. Add the onion, garlic, red pepper and courgette. Sauté for five minutes then add the turkey mince. Cook for around 5-7 minutes, or until the turkey mince is browned and cooked through.

Add half of the cheese to the turkey mixture and continue to cook until the cheese has melted.

Divide the turkey mixture between four tortillas and roll up into parcels. Place into an ovenproof dish, spoon over sauce and sprinkle with remaining cheese. Place into the preheated oven to bake for 15-20 minutes, until golden.
Recipe Tips
You can use leftover cooked turkey for this recipe. Cook the vegetables for a bit longer (until cooked to your liking) then add the cooked turkey and cheese at the same time.
Related Recipes
See more Low-calorie meat dishes recipes (5)
See more wraps recipes (23)
See more turkey mince recipes (11)