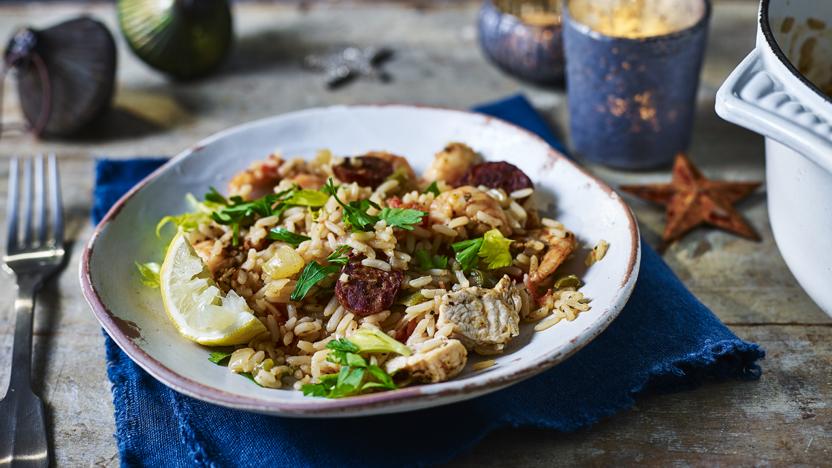 This recipe makes use of leftover Christmas turkey and chipolatas - but you could also use chorizo or the French garlic sausage (saucisse de Morteau) for a more authentic New Orleans-style dish.


Method
Put the prawns in a bowl and sprinkle over one tablespoon of the Cajun seasoning. Rub it in well so they are completely coated. Heat one tablespoon of olive oil in a pan and add the turkey. Sprinkle over the remaining Cajun seasoning and fry briefly. Remove from the heat and set aside.

Heat another tablespoon of the olive oil in a large casserole. Add the sausage and fry until crisp and brown. Remove from the casserole and add the onions, peppers and celery. Cook over a medium heat until they soften and start to caramelise around the edges, then add the garlic and cook for another minute.

Add the bay leaf and the tomatoes. Sprinkle over the rice, then pour over the stock. Return the sausage to the casserole and season with salt and pepper. Cover and simmer over a gentle heat for 15 minutes.

Lightly stir in the cooked turkey, then place the prawns on top. Cover again and cook on a low heat for a further five minutes so that the prawns can steam. If you think the rice is already cooked, turn off the heat and leave to stand – the prawns will still cook in the residual steam.

Serve with lemon wedges, hot sauce and a good sprinkling of parsley and celery leaf if liked.