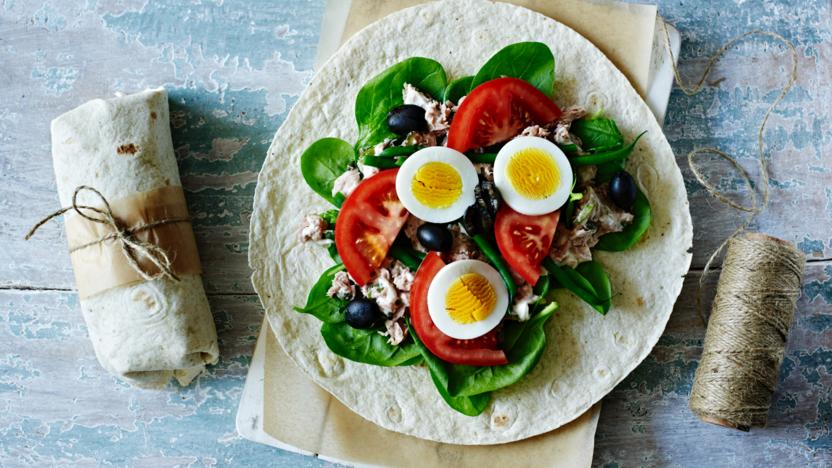 We made these protein-packed wraps to take on a picnic and they were substantial and tasty – a feast in a flatbread. They survived the journey in a bicycle pannier well too, so just the thing for a day out in the hills and dales.

Each wrap provides 461 kcal, 39g protein, 45g carbohydrate (of which 4.5g sugars), 14g fat (of which 2.5g saturates), 5g fibre and 1.8g salt.
Method
Bring a pan of water to the boil, add the beans and cook for four minutes.

Lift the beans out with a slotted spoon and dunk them into a large bowl of cold water. Alternatively, tip the beans into a sieve and rinse them under running water until cold. Drain.

To boil the egg, put the pan with the hot water back on the heat, add the egg and bring the water back to the boil. Cook for eight minutes, then put the egg in a sieve under running water until cold. Leave the egg in cold water while you prepare the rest of the filling.

Mix the mayonnaise, capers, gherkins, herbs and a few twists of ground black pepper in a bowl. Add the tuna and stir everything lightly, without mashing the tuna too much.

Peel the egg, then slice it into quarters, lengthwise.

Place the tortillas on a board and cover each one with a layer of spinach leaves, leaving a gap of about 5cm/2in at the top and bottom of the tortilla. Add the green beans, all heading in one direction.

Divide the tuna mixture between the tortillas, then the egg and tomato pieces. Sprinkle with the olives, pressing each one lightly between your thumb and finger to flatten them slightly.

Fold the top and bottom of each wrap inwards to cover most of the filling and then roll up fairly tightly. Wrap them in foil – no need do this if eating immediately – then chill the wrapped tortillas until ready to eat. Eat within 24 hours and transport with an ice pack if serving as a packed lunch. Unwrap the foil as you eat the wrap.

If you are taking your wrap to work, don't forget to use a cool bag and ice pack to keep it chilled and in tip-top condition until you are ready to eat.
This recipe is from...
Recipes from this episode