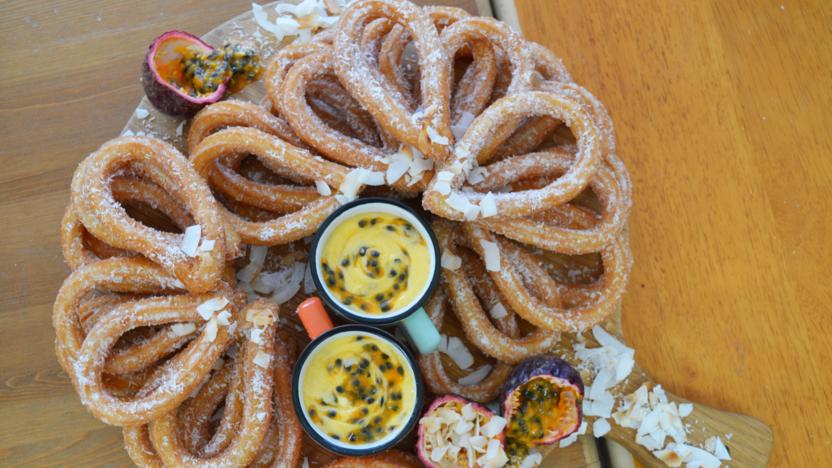 Tangy mango and passion fruit dipping sauce is great with these rich, coconut-flavoured churros. Best served fresh from the pan.

For this recipe you will need a food processor, a spice grinder and a deep-fat fryer or a suitable pan and a cook's thermometer.
Ingredients
For the dipping sauce
For the churros
Method
For the dipping sauce, blend the mango and lemon juice to a purée using a food processor.

Set a large, heatproof bowl over a pan of gently simmering water. Scrape the seeds and pulp out of the passion fruits and push through a sieve into the bowl. Discard the seeds. Add the mango purée, egg, egg yolk and sugar to the bowl. Stir frequently until the mixture is thick enough to coat the back of a spoon. Remove from the heat and stir in the butter one piece at a time. Set aside to cool.

Once cool, lightly whip the double cream in a separate bowl. Gently fold it into the passion fruit and mango mixture. Set aside

For the churros, in a shallow dish, mix together 30g/1oz desiccated coconut and 50g/1¾oz caster sugar. Set aside.

Put the remaining 100g/3½oz desiccated coconut in a spice grinder and blend to a fine powder. Transfer to a frying pan and lightly toast.

In a large saucepan, combine 300ml/10fl oz water with the remaining sugar, the milk, salt, butter, vanilla paste, coconut flavouring, if using, and coconut oil. Bring to the boil.

In a separate bowl, mix together the flour and toasted coconut. Add this to the boiling sugar mixture and mix well using a wooden spoon until the dough comes together in a ball and pulls away from the sides of the pan. Let the dough cool slightly, then transfer the mixture to a large piping bag fitted with a large star nozzle.

Line two large baking trays with greaseproof paper. Pipe 18 churros in teardrop shapes, then cover and chill them for 10 minutes.

Heat the sunflower oil in a deep-fat fryer or a large heavy-based pan until it reaches 190C on a cook's thermometer. (CAUTION: hot oil can be dangerous. Do not leave unattended.)

Carefully lower the chilled churros into the hot oil and fry for 2–3 minutes, or until golden-brown, turning once during frying. Don't overcrowd the pan or the oil will get too cold and the churros won't cook properly. (CAUTION: do not allow the oil to get too hot as this may cause the churros to explode. Protect yourself from splashes of hot oil and keep your face away from the pan.)

Remove the churros from the oil using a slotted spoon and drain on a plate lined with kitchen paper. Coat the churros in the coconut and sugar mixture. Serve immediately with the dipping sauce.