Triple-crown roast of lamb with a jewelled fruit stuffing and minted red wine sauce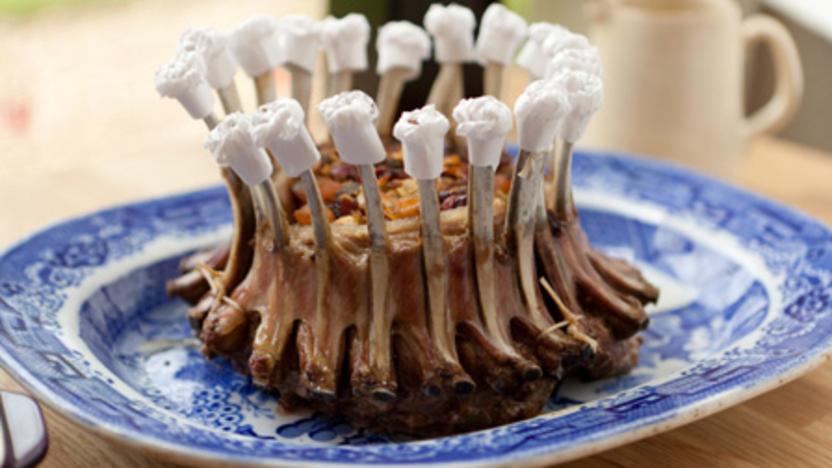 Put on your Sunday best and make rack of lamb the crowning glory for a special lunch.
Ingredients
3 x racks of lamb (best end), French trimmed (ask your butcher to do this)
For the stuffing
For the minted red wine sauce
Method
Preheat the oven to 200C/400F/Gas 6.

For the stuffing, heat the oil in a large heavy-based frying pan. Add the onion and fry gently for five minutes, stirring occasionally until softened. Stir in the almonds and cook for 1-2 minutes until lightly toasted.

Sprinkle the spices over the onion and almonds and cook for one minute. Scatter the pear pieces into the pan and add the garlic, apricots, sultanas, cranberries, orange and lemon zest. Stir together over a medium heat for 1-2 minutes. Add all the herbs and season with salt and freshly ground black pepper. Cook for a further minute, remove from the heat and set aside to cool.

Season the racks of lamb with salt and freshly ground black pepper.

Place the ribs onto a large, sturdy roasting tin with the eye of the meat at the bottom. Using six long pieces of kitchen string, tie the ribs together at three points.

Spoon the stuffing into the centre of the ribs and cover the surface with aluminium foil. Cover the ends of all the bones with foil to avoid burning.

Roast the crown for 45 minutes for pink and an extra 15 minutes if you prefer your lamb medium. Remove the aluminium foil five minutes before the end of the cooking time.

Remove the baking tin from the oven and carefully transfer the lamb and stuffing to a serving platter. Cover with aluminium foil and tea towels. Set aside for 10-15 minutes.

Reserve1-2 tsp of fat in the roasting tin, but discard the remainder. Heat the tin and remove the meaty trimmings with a spatula and discard.

Sprinkle the flour into the tin and cook for a few seconds. Slowly pour in the red wine and allow to bubble for 20 seconds, stirring vigorously with a wooden spoon. Stir in the water, add the mint and return to a simmer. Cook for 2-3 minutes, or until slightly thickened. Strain though a sieve into a heatproof jug.

Take the lamb to the table and cut through the bones to serve. Depending on the size of your racks, 2-3 chops should make one serving when accompanied by the fruity stuffing. Spoon over a little of the sauce and serve.