Treacle sponge pudding with spiced pears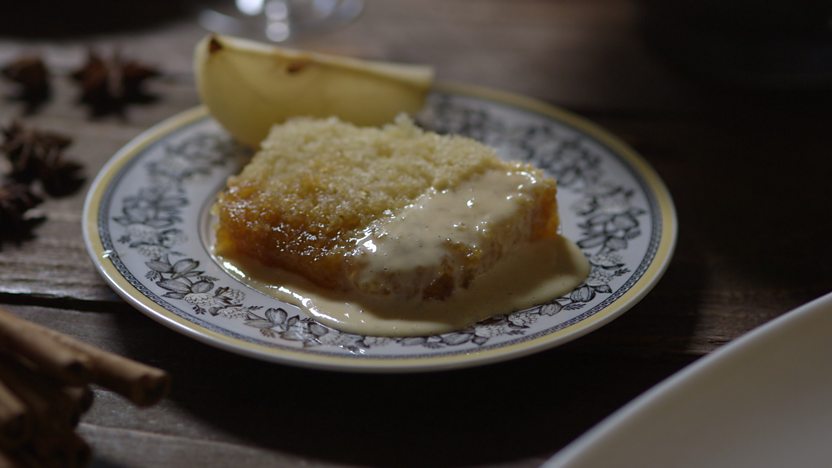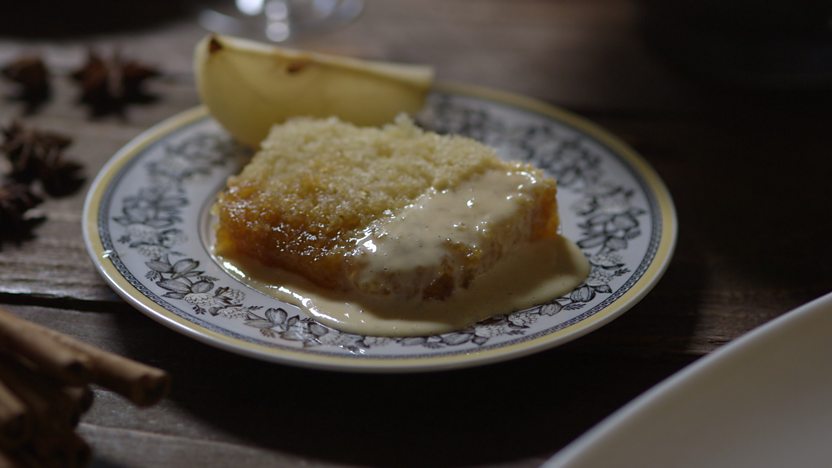 This steamed pudding is a deceptively easy recipe that will go down well with everyone you serve it to.

For this recipe, you will need a terrine mould and a lidded saucepan large enough to fit it into.
Ingredients
For the pudding
For the spiced pears
For the custard
Method
Grease a 1kg/2lb 4oz rectangular terrine mould or loaf tin with butter.

Pour the golden syrup into the terrine mould, then arrange the pear slices on top in a single layer, overlapping the slices slightly.

Beat the sugar and butter until pale and fluffy. Beat in the eggs one at a time until well combined, then fold in the flour.

Spoon the sponge mixture into the terrine and smooth the top.

Cut a large rectangle of greaseproof paper and place it on top of the pudding. Fold a rectangle of aluminium foil in half to form a double layer, then crimp that around the top of the terrine and secure with cook's string.

Place the terrine into a large saucepan and add enough water to reach halfway up the sides of the terrine.

Cover the pan with a lid, bring the water to the boil, then reduce the heat until simmering. Steam the sponge pudding for 1½ hours, or until a skewer inserted into the centre of the sponge comes out clean. Checking the water level halfway through cooking.

Meanwhile, for the spiced pears, bring the sweet wine to the boil in a saucepan with the star anise, cloves, cinnamon stick, pears, orange and lemon zests. Reduce the heat and simmer for 12-15 minutes, or until the pears are tender. Set aside.

For the custard, heat the milk, cream and vanilla seeds in a saucepan over a medium heat. Bring to the boil.

Whisk the sugar and egg yolks in a bowl until pale and thick. When the milk is boiling, pour it onto the egg mixture, whisking all the time, until well combined, then return the whole mixture to the pan and cook over a gentle heat, whisking occasionally, until it has thickened enough to coat the back of a wooden spoon. Strain the custard if desired.

When the sponge pudding is cooked, turn the heat off and allow to cool slightly before removing it from the pan. Unwrap the pudding and remove the greaseproof paper. Place a plate on top of the pudding and flip it over, holding the plate firmly in place. Set aside for 1-2 minutes, then remove the terrine mould – the pudding should just slide out.

To serve, pile the pears into a serving bowl with the cooking liquid and pour the custard into a jug. Serve with the sliced sponge pudding.
Related Recipes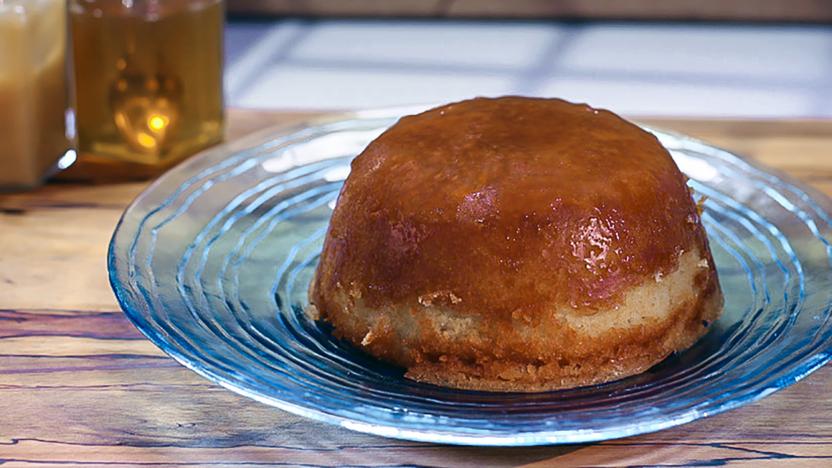 See more sponge pudding recipes (25)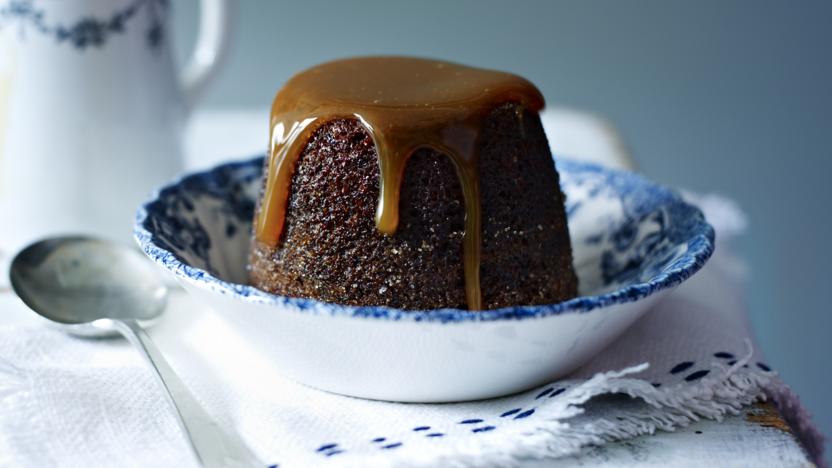 See more golden syrup recipes (176)