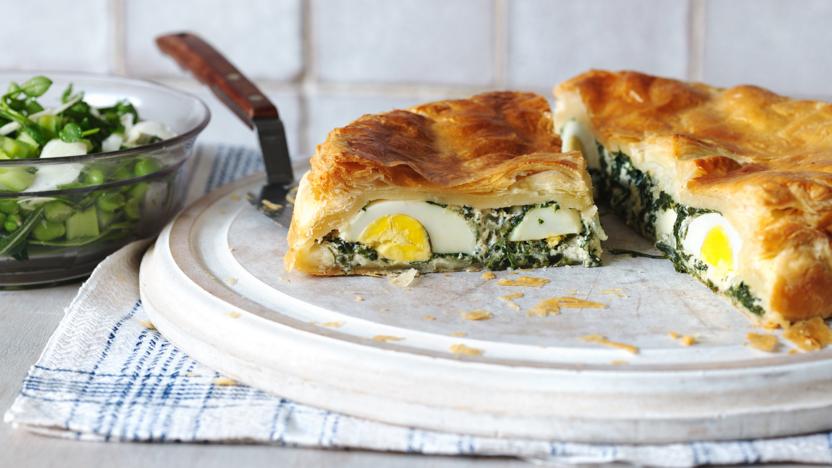 A beautiful vegetarian Easter feast, this authentic Italian pie is stuffed with fresh greens and rich eggs and is perfect for eating throughout the summer.

Ingredients
For the torta
For the salad
Method
Preheat the oven to 200C/180C Fan/Gas 6.

Grease a 28cm/11in round, deep pie dish with butter, then dust with flour.

For the torta, place five of the eggs into a pan of boiling water and boil for ten minutes. Drain and place the eggs into cold water and leave to cool. Once cool, remove the shells and cut the eggs in half lengthways.

Wash the spinach and dandelion leaves and shake to remove the excess water.

Heat a large pan with a lid until hot, then add the spinach and dandelion leaves and cover. Cook for 4-5 minutes, until steamed and wilted down. Drain the spinach and dandelion mixture, and, once cool enough to handle, squeeze out any excess liquid. Roughly chop the spinach and dandelion mixture and place into a bowl.

Heat a frying pan over a medium heat and add the olive oil and onion. Fry the onion gently for a few minutes until softened, then set aside and allow to cool.

Add the cooked onion to the spinach and dandelion and mix well. Add the ricotta and parmesan and mix well.

Add the provolone, season, to taste, with salt and freshly ground black pepper and mix well.

Roll out about half of the puff pastry to 0.5cm/¼in thick and use to line the prepared pie dish.

Fill the pie case with half of the spinach and cheese mixture. Add the boiled egg halves, yolks down, evenly spaced, then top with the remaining spinach mixture.

Brush the edge of the pastry with a little beaten egg.

Roll out the remaining puff pastry to the same thickness as the first sheet, and place over the pie filling, pressing down the edges well. Trim away any excess pastry and crimp the edges with your fingers, so that the pie is well sealed.

Make a small incision the shape of a cross into the centre of the pastry top to allow steam to escape during baking.

Brush the top of the pastry with beaten egg, then transfer to the oven to bake for 35-40 minutes, or until risen and golden-brown all over. Remove from the oven and allow to cool.

For the salad, boil the broad beans for one minute, then drain and refresh in cold water.

In a large clean bowl, place the celery, rocket and mint. Add the cooled broad beans and mix well.

Place the olive oil and lemon juice into a small clean bowl and whisk until it starts to thicken. Pour the dressing over the salad and mix well.

To serve, place a slice of the torta onto each plate and spoon some of the salad alongside. Drizzle everything with a little extra virgin olive oil and top with shavings of pecorino cheese.