Torta nera (chocolate walnut tart)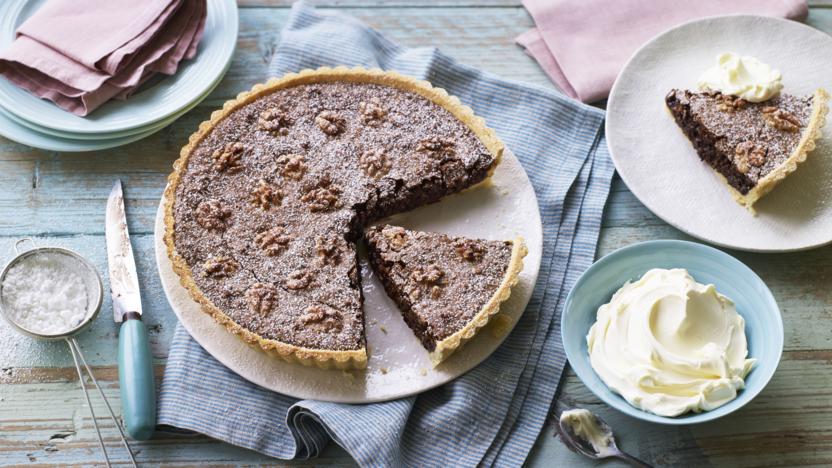 Crumbly pastry is filled with a mixture of chocolate, espresso, walnuts and amaretti biscuits to make this rich and decadent Italian dessert. Bellissimo!
Ingredients
For the sweet pastry
For the filling
Method
Preheat the oven to 200C/180C Fan/Gas 6 and butter a 23cm/9in deep, fluted, loose-bottomed tart tin.

To make the pastry, put the flour and salt in a bowl and rub in the butter with your fingertips until the mixture resembles coarse breadcrumbs. Add the sugar and mix in the egg yolks. Bring the dough together without kneading and wrap in cling film. Put it in the fridge for 30 minutes.

Roll out the pastry on a lightly floured surface and use it to line the prepared tart tin. Cover the pastry with greaseproof paper and fill with baking beans. Bake blind for 10–12 minutes. Remove the baking beans and greaseproof paper and return to the oven for 5–6 minutes, or until lightly golden. Leave to cool.

Reduce the oven temperature to 180C/160C Fan/Gas 4.

To make the filling, blend the walnuts with 100g/3½oz sugar in a food processor until finely ground.

Whisk the eggs with the remaining sugar. Carefully stir in the melted butter, ground walnut mixture, amaretti biscuits, chocolate, flour, coffee and almond liqueur. Mix well.

Spoon the filling into the tart case. Decorate with the whole walnuts and bake in the middle of the oven for 25 minutes.

Serve warm with a sprinkling of icing sugar and a small scoop of mascarpone.