Soft chocolate nougat (torrone molle)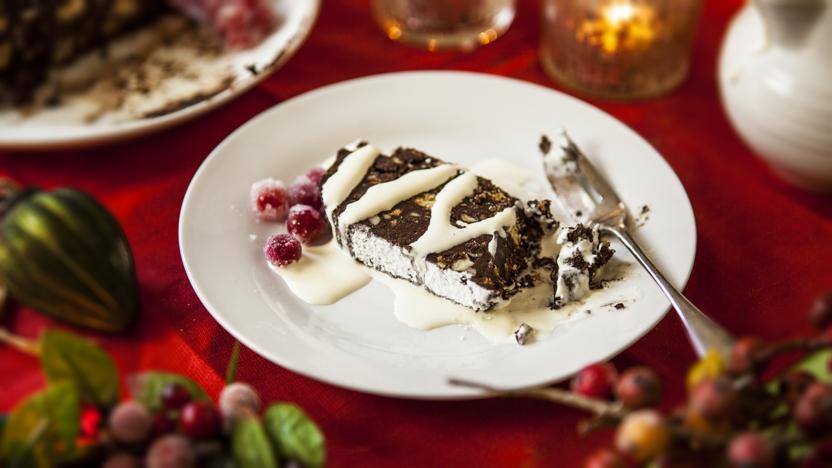 When I came to England, wishing desperately to conform, I always produced a homemade Christmas pudding, which none of my children really liked, plus this parrot pudding (as my sons called this soft chocolate nougat), which they loved.
Ingredients
125g/4½oz almonds, blanched
200g/7oz unsalted butter, softened
200g/7oz granulated sugar
100g/3½oz best-quality unsweetened cocoa powder
1 large free-range egg, preferably organic
the yolk of 1 large free-range organic egg
100g/3½oz digestive biscuits
3 tbsp orange-flavoured liqueur
candied flowers or sugared almonds or whipped cream, to decorate
Method
Preheat the oven to 180C/350F/Gas 4.

Spread the almonds on a baking tray and bake for 7-10 minutes, or until they turn golden-brown. Grind them coarsely in a food processor, being careful to stop when they resemble grains of rice.

Cream together the butter and sugar in a bowl until light and fluffy.

Sieve the cocoa and add it to the butter and sugar. Beat hard to incorporate.

Lightly beat together the whole egg and the egg yolk and then add the eggs to the mixture. Stir well until everything is well blended together.

Crush the biscuits with a rolling pin, add to the mixture together with the ground almonds and the orange-flavoured liqueur. Mix thoroughly.

Line a 20x10cm/8inx4in loaf tin with cling film and spoon the mixture into it pressing down all the time to eliminate any air bubbles and, when it is all in, bang the tin hard on the work surface. Cover with cling film and chill for at least four hours.

Get an oval dish, turn the tin upside down over it and peel off the cling film.

Decorate with candied flowers or sugared almonds or whipped cream before serving.
Recipe Tips
This recipe can be made up to five days in advance. It also freezes well.