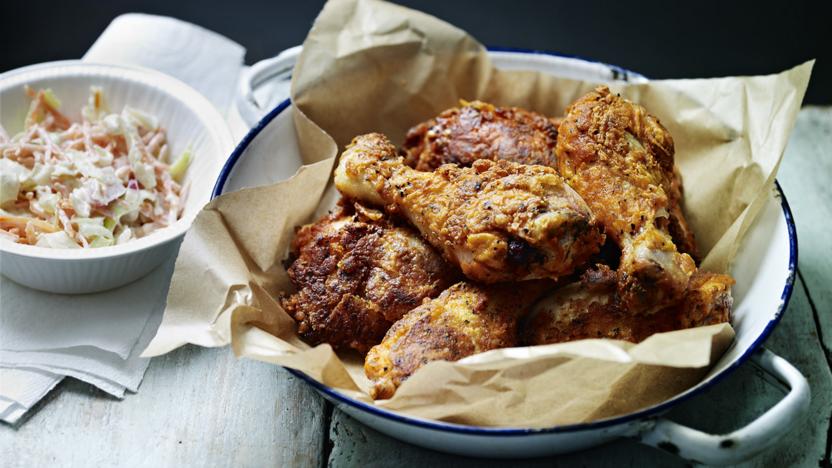 Preparation time
overnight
Cooking time
30 mins to 1 hour
Delicious fried chicken with spicy smoky kick - serve it in a basket with coleslaw for a touch of nostalgia.
Preparation time
overnight
Cooking time
30 mins to 1 hour
Method
Place the chicken pieces in a container, cover with the buttermilk and refrigerate for 12 hours.

Preheat the oven to 180C/160C Fan/Gas 4.

Mix together the flours with the dried spices and herbs on a large plate. Remove the chicken from the buttermilk and shake off as much of the buttermilk as possible. Roll the chicken pieces around in the dry mix until coated.

Heat a large frying pan over a medium-low heat and add a glug of oil. Fry 2-3 pieces of chicken at a time (do not crowd the pan) until golden-brown all over and cooked through. When cooked, drain the chicken on kitchen paper and then transfer to a roasting tin.

Put the chicken pieces in the oven until the coating is crunchy rather than crisp (up to 15 minutes).

Serve in a basket with some coleslaw.
Related Recipes
See more Dirty snacks recipes (20)
See more fried chicken recipes (23)
See more chicken recipes (266)
This recipe is from...
Recipes from this episode