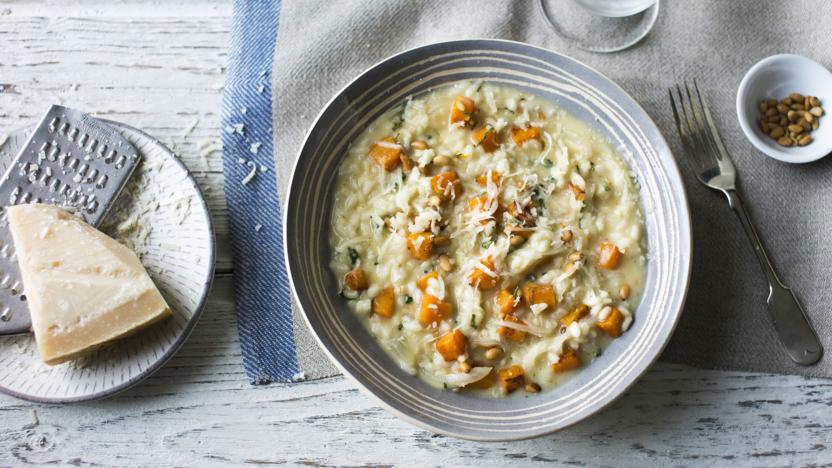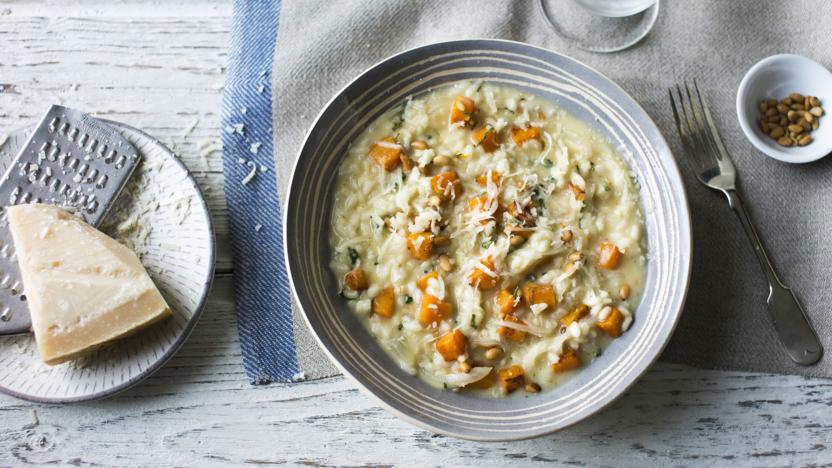 Tom Kerridge shows you how to make the perfect butternut squash risotto with creamy mozzarella toasty pine nuts and fragrant sage.
Method
Heat the butter and half the oil in a frying pan over a low-medium heat. Add the onion and garlic and fry for 8-10 minutes, until softened but not coloured. Add the rice and fry for 1-2 minutes, stirring constantly until it is coated in the oil.

Pour in the wine and bring to the boil. Reduce the heat slightly until the wine is just simmering, then cook until two-thirds of the wine has evaporated.

Add a ladleful of the warm stock to the pan and return to a simmer, reducing the heat if the liquid starts to bubble too fiercely, to prevent the rice from cooking too quickly. When most of the stock has evaporated, add another ladleful. Cook the risotto in this way for 12-15 minutes, or until most of the stock has been absorbed by the rice and the rice is tender but has a slight bite.

Meanwhile, heat the remaining oil in a frying pan over a medium heat and fry and the butternut squash for 10-12 minutes, turning regularly, until tender and golden-brown all over.

Stir the sage, butternut squash, Parmesan and mozzarella into the risotto. Turn the heat off, leave the pan on the heat, and let the cheese melt. Season, to taste, with salt and pepper.

Meanwhile, heat a dry frying pan over a medium heat. Add the pine nuts and toast for 1-2 minutes, until just golden-brown. Stir them into the risotto and serve.
Recipe Tips
Tip 1: Arborio rice is the classic Italian risotto rice. It is a medium- to long-grain rice that can absorb a lot of liquid as it cooks while retaining a good 'bite' when cooked. Use approximately 70g/2½oz per person.
Tip 2: The base of any risotto is the 'soffritto' (the fried onion and garlic). Do not allow the onion to brown, as it will ruin the flavour of the risotto. This rule applies to the rice, too, because burning the rice affects the texture of the risotto.
Tip 3: Stirring the rice as it absorbs the stock helps to release starch which gives risotto its creamy texture.
Tip 4: You may not need to use all of the stock - you're aiming for a dish that's sloppy rather than dry. As a rough guide, the risotto should absorb up to five times its volume in liquid.
Tip 5: You can vary the flavour of your risotto by adding different ingredients. Try substituting the butternut squash and sage with cooked ham and peas. If you're adding harder vegetables, you might need to pre-cook them first.
Tip 6: When you stir in the cheese, you can also add butter and mascarpone to make the risotto extra-impressive and extra-luxurious.
Related Recipes
See more risotto recipes (59)
See more arborio rice recipes (34)