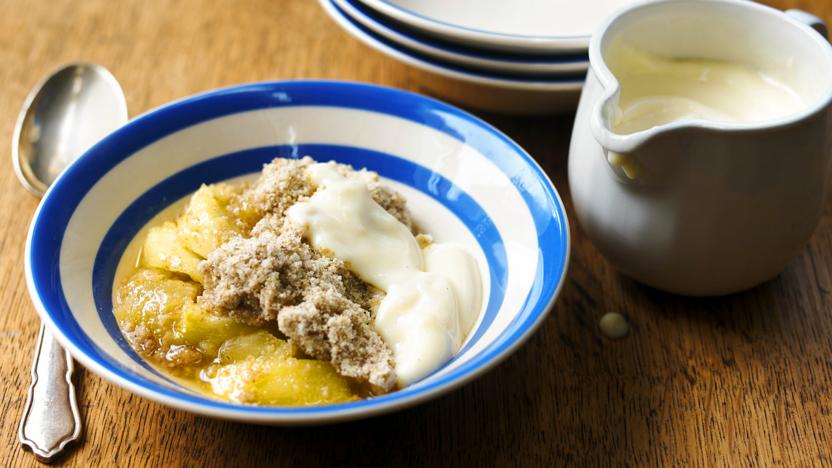 Toffee adds a decadent twist to a classic apple crumble. Serve with lashings of custard.
Ingredients
For the toffee apples
For the crumble
For the custard
Method
Preheat the oven to 180C/350F/Gas 4.

For the toffee apples, place the water and sugar into a saucepan and slowly bring up to the boil. Reduce the heat once the sugar has melted, add the syrup and butter and then bring up to the boil again, stirring constantly.

Turn down the heat, add the apples and cook, stirring gently, until just soft. Place into an ovenproof dish.

For the crumble, rub the flour, butter and sugar together in a bowl with your fingertips until the mixture resembles breadcrumbs. Spoon the crumble evenly over the toffee apple mixture and place in the oven to bake for 15 minutes, or until crisp and golden-brown.

For the custard, place the egg yolks and sugar into a bowl. Place the milk and vanilla seeds into a saucepan and bring to the boil, then pour into the egg and sugar mixture. Whisk until well-combined. Return the custard mixture to the saucepan and warm over a low heat until it thickens enough to coat the back of a spoon.

To serve, divide the crumble between 4-6 serving plates and place a dollop of custard on each.