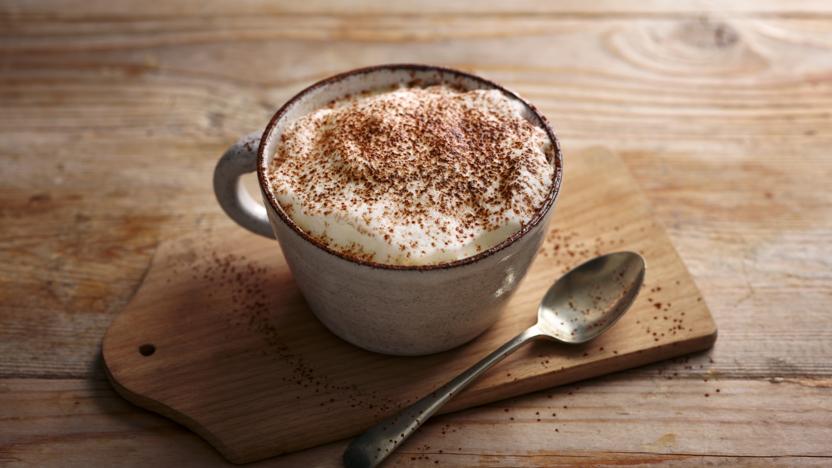 Mocha – chocolate-flavoured coffee – is an indulgent treat mid-morning or after dinner.
Method
Mix the cocoa powder and sugar in a cup that holds around 250ml/9fl oz. Pour the coffee into the cocoa mixture and stir until the cocoa and sugar dissolve.

Pour the milk into an electric milk frother, if you have one, and begin frothing. Alternatively, pour the milk into a small saucepan and heat gently, stirring regularly – do not allow to simmer or boil. Use a hand-held milk frother or a silicone whisk to whisk until frothy.

Slowly pour the milk onto the coffee, starting by holding the cup at a slight angle, towards the milk. Finish by topping with the foam. Serve immediately, stirring well before drinking.
Recipe Tips
To make strong instant coffee, dissolve 1 teaspoon of instant coffee in 4 tablespoons of just-boiled water.
If using coffee pods, make a strong double espresso straight into the cocoa and sugar mix, using one or two pods, depending on the strength of your pods. You'll need around 4 tablespoons (60ml) of liquid coffee.
You can use semi-skimmed milk instead of full-fat, but it won't froth as well. If using oat milk, look out for the barista-style for the best frothing qualities.
Hot chocolate powder can be used instead of cocoa and sugar. You'll need around 2 teaspoons for a cup of mocha coffee.
For an extra special coffee, top with whipped cream – squirty cream is fine – and sprinkle with finely grated dark chocolate or sifted cocoa powder.