Pressure cooker Thai red curry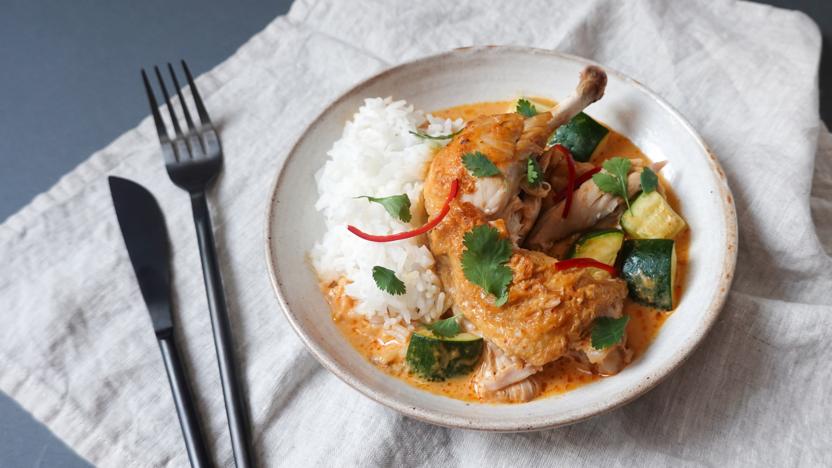 Using chicken legs in this Thai curry ensures maximum flavour, as the pressure cooker quickly extracts all the rich gelatine from the bones.
Method
Heat the oil in the pressure cooker over a medium–high heat. Add the chicken legs and fry until golden (you may have to do this in batches). Remove from the pan and set aside.

Add the red curry paste to the pan and fry for 2–3 minutes, until fragrant.

Add the stock and stir with a wooden spoon, scraping up any browned bits from the bottom of the pan. Add the coconut milk, lime leaves, fish sauce, sugar and the chicken and stir well. Fix the lid on the pressure cooker and place over a high heat until it reaches pressure. Reduce the heat to low and cook for 20 minutes. (If using an electric pressure cooker, use the high pressure settling for 20 minutes.)

Remove the pressure cooker from the heat and leave to depressurise.

Remove the lid and set the pan over a medium heat to bring the curry to a simmer. Add the courgettes and simmer for 3–4 minutes, until the courgettes are just cooked.

Serve the curry over jasmine rice, garnished with red chilli and Thai basil.