Thai fish cakes with noodles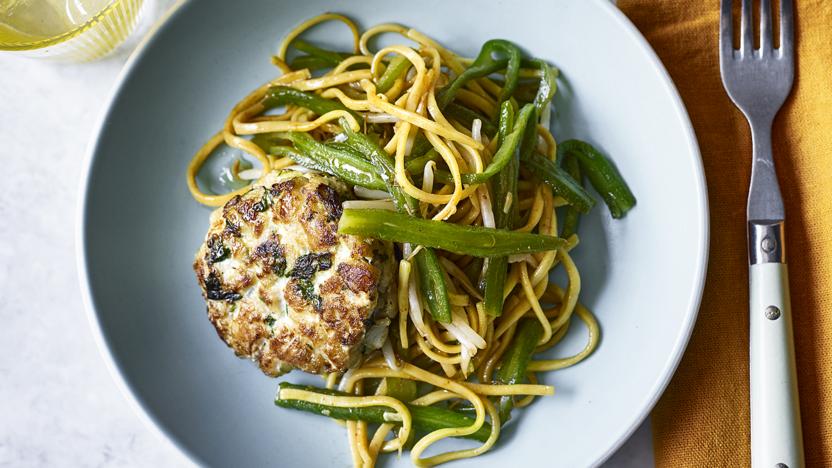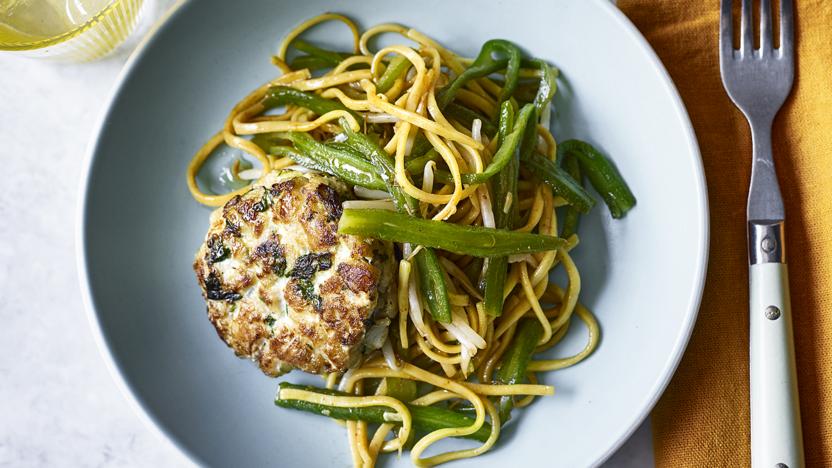 These fish cakes are a perfect way to add fish into your diet. You can use any Thai curry paste you like (Thai red, green, massaman, etc).

Each serving provides 560 kcal, 41g protein, 52g carbohydrates (of which 11g sugars), 20g fat (of which 3.5g saturates), 6g fibre and 5.9g salt.

Ingredients
For the fish cakes
For the noodles
Method
Mix together the cod, spring onions, parsley and Thai green curry paste. Add the egg and a pinch of salt and pepper and mix thoroughly.

Heat the sesame oil in a small frying pan, over a medium–low heat and add the fish cake mixture in 2 spoonfuls. Try to shape into 2 circles–it's almost like cooking thick pancakes. Cook for 5 minutes, then flip and cook for another 5 minutes, or until they are golden-brown on both sides.

Just before you flip the fish cakes, to make the noodles, heat the sesame oil in a wok or large frying pan over high heat. Add the sliced green beans and cook for 2 minutes, then add the beansprouts and cook for another minute.

Add the noodles to the wok and spread them out using tongs or chopsticks – you want them to get a lot of heat. Mix gently and cook for 2 minutes.

Add the Sriracha, soy sauce, and a tablespoon of cold water, and toss carefully. Cook for 1 minute, or until the noodles are semi-soft.

Divide the noodles between two bowls or plates, top with the fish cakes and enjoy!
Recipe Tips
The fish cakes can also be served in a wrap, on a simple salad, or with veggies and homemade potato wedges.
This recipe is from...
Recipes from this episode