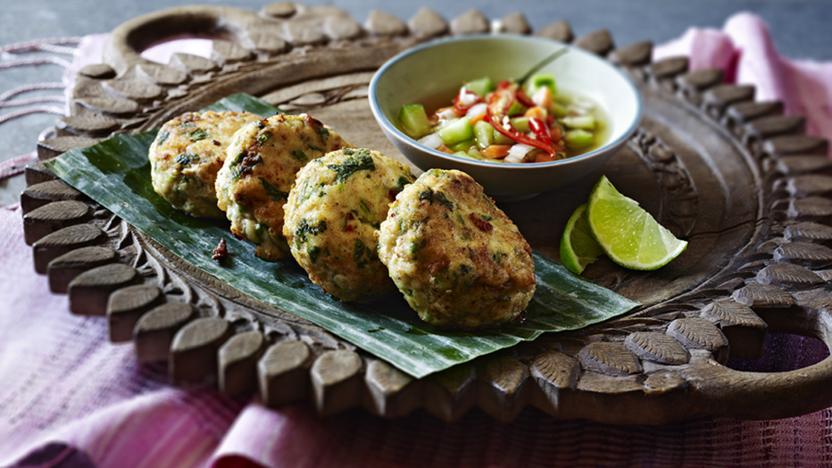 Preparation time
30 mins to 1 hour
Cooking time
less than 10 mins
You can make your own Thai red curry paste for these fish cakes if you wish but you can get away with a good-quality bought one. The secret to forming the quite sloppy mixture is wet hands - honest it works.
Preparation time
30 mins to 1 hour
Cooking time
less than 10 mins
Ingredients
For the Thai fish cakes
For the dip
To serve
Method
For the fish cakes, place the fish, fish sauce, red curry paste, lime leaf, galangal, lemongrass, coriander root, egg, palm sugar, beans, and lime juice in a food processor and blend to a paste. Alternatively this can be done in a pestle and mortar – pound the ingredients to a jelly-like paste.

Remove and, with damp hands, take a piece about the size of a walnut. Roll it into a ball and then flatten it to a thin disc. Lay on a floured plate. Repeat until all the mixture has been used. Refrigerate until ready to cook.

For the dip, beat together the vinegar, honey, two tablespoons of water, the lime juice and fish sauce. Taste and adjust the honey and lime juice to get it sweeter or sourer, however you want it. Add the cucumber, carrot, shallot and chilli. Leave for 30 minutes to an hour for the flavours to develop.

Heat the groundnut oil in a frying pan and cook the fish cakes until golden-brown all over – this should take a couple of minutes on either side.

Serve on a banana leaf with the sauce in a dish to one side. Garnish with the lamb's lettuce.
Recipe Tips
You can use halibut, sea bass, pollock or coley depending on your budget.
Related Recipes
See more Ways to use up potatoes recipes (28)
See more fish cakes recipes (44)
This recipe is from...
Recipes from this episode