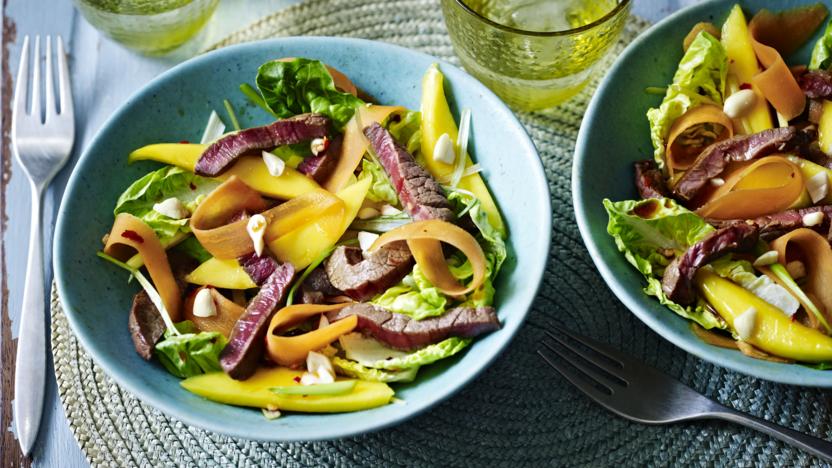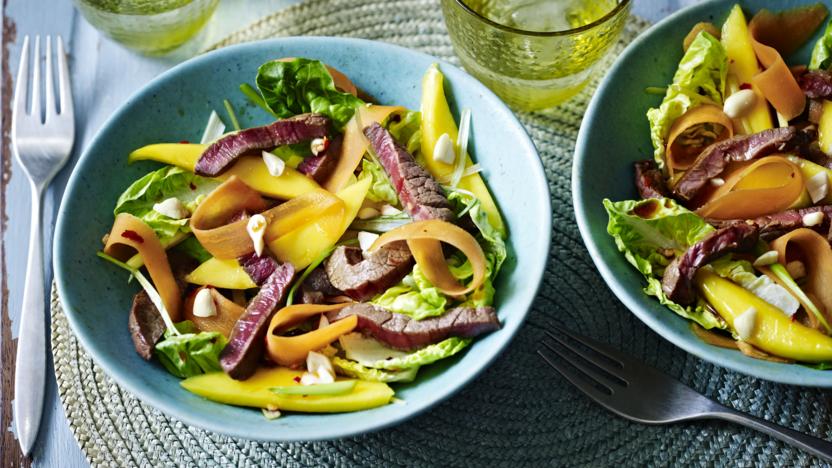 Donal's Thai beef salad recipe combines sweet mango with crunchy peanuts and a lime and chilli dressing. As easy as it is delicious!

Each serving provides 509kcal, 41g protein, 30g carbohydrate (of which 29g sugars), 23g fat (of which 5g saturates), 9g fibre and 1.6g salt.
Ingredients
For the dressing
Method
Put the steaks in a shallow bowl. Pour on the oil and soy sauce and rub them into the meat so it's coated all over. Set aside to marinate while you prepare the vegetables. (Wash your hands after handling raw meat.)

Peel the carrots then use the peeler to make thin ribbons. Separate the lettuce leaves, wash the leaves and drain in a colander. Finely slice the spring onions then peel, stone and thinly slice the mango. Combine the vegetables in a large bowl.

Heat a large frying pan over a high heat, add the steaks and cook for 1 minute on each side for medium rare or cook for an extra minute on each side for medium. Remove the steaks from the pan and transfer to a plate to rest.

While the steaks are resting, prepare the dressing. Peel and grate the garlic then put it into a bowl with the lime juice, sugar and chilli flakes and stir them together. Pour the dressing over the prepared vegetables and add the peanuts. Slice the beef thinly, add to the bowl along with any resting juices and toss to combine. Serve immediately.