Tava lamb with avocado and radish salad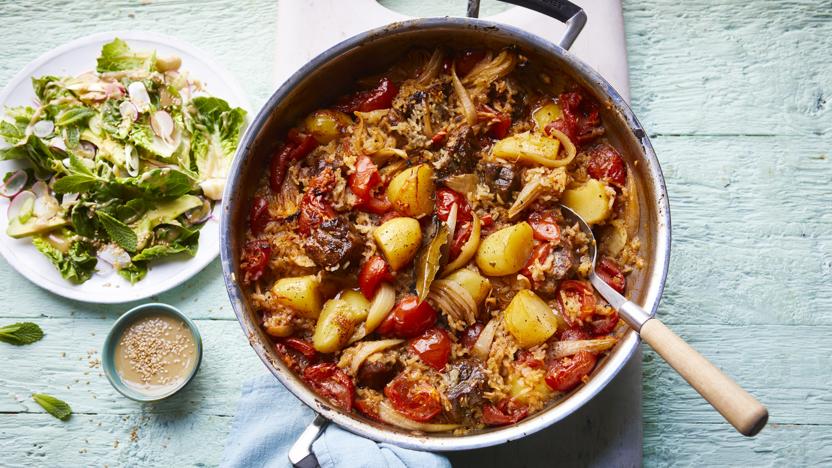 Tava is a traditional lamb dish popular in Greece, Turkey and Cyprus. Here it is served with a fresh salad in a tahini and sesame dressing.
Ingredients
For the tava
For the avocado and radish salad
Method
To make the tava, preheat the oven to 170C/150C Fan/Gas 3. Place the onions, potatoes, lamb, 40ml/1½fl oz olive oil, cumin, bay leaves and tomato purée in a large earthenware cooking pot or casserole. Season generously with salt and pepper and massage everything together with your hands. Stir the tomatoes into the lamb mixture, then add the rice and stock.

Cover the dish with foil or a lid and cook in the oven for 2½ hours, topping up with a little extra stock or hot water if required. When the dish is cooked, the lamb should be melt-in-the-mouth tender. If the lamb is not cooked, cover the dish and return to the oven for a further 20 minutes. When cooked to your preference, remove the lid or foil and turn the oven up to 200C/180C Fan/Gas 6. Drizzle the tava with the remaining olive oil and return to the oven for a further 20 minutes, until caramelised and browned. Stir through the parsley.

To make the salad, place the garlic in a jar or small bowl and add the lemon juice. Pour in the oil and tahini and shake or whisk until emulsified, adding water if needed to loosen. Season generously with salt and pepper and stir in just over half of the sesame seeds.

Toss the spring onion, mint, radish, lettuce and avocado together in a bowl. Dress with the tahini mixture, discarding the garlic clove. Garnish with the mint and the reserved sesame seeds. Serve with the tava immediately.