Tapioca porridge with baked rhubarb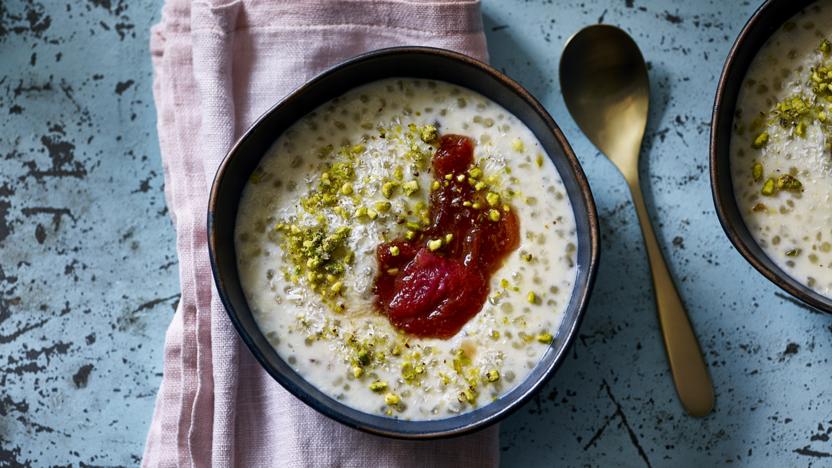 Tapioca pudding is transformed into a lovely comforting Suhoor breakfast with rose-flavoured rhubarb and pistachios. This eats well warm or cold.
Method
Preheat the oven to 200C/180C Fan/Gas 6.

Put the rhubarb, sugar, vanilla, lemon zest in a roasting tin and toss together.

Bake for 1 hour, stirring halfway through, until the rhubarb is soft, bubbling and bright pink. Remove the tin from the oven, sprinkle over the rosewater and set aside to cool. The baked rhubarb will keep in the fridge in an airtight container for 1–2 weeks.

Meanwhile, rinse the tapioca pearls in a sieve until the water runs clear. Transfer to a bowl, cover with water and soak for 15 minutes.

Drain the tapioca and transfer to a saucepan with 400ml/14fl oz water and bring to the boil. Cook for 15 minutes, or until the tapioca pearls are soft, then remove from the heat and allow to cool. Meanwhile, heat the milk in a large heavy-based saucepan over a medium heat.

Add the cooked tapioca, cardamom, sugar and half of the desiccated coconut to the hot milk and cook, stirring constantly for 5–6 minutes, or until the tapicoa begins to swell up and the mixture becomes thicker. Stir in half of the pistachios.

Pour the tapioca mixture into a large serving dish and decorate with the remaining ground pistachios and desiccated coconut and a big helping of the rhubarb jam.
Recipe Tips
You can soak the tapioca overnight to save time if you're making this in the morning.