Tandoori John Dory with steamed razor clams
A spicy fish supper is complemented with steamed razor clams and a fresh salad.
Ingredients
For the tandoori masala spice mix
For the steamed razor clams
For the John Dory
To serve
Method
For the tandoori masala spice mix, dry roast the cumin, coriander, cloves and cinnamon sticks in a frying pan over a low heat until they begin to release their aroma. Remove from the heat and leave to cool. Grind the ingredients in a coffee grinder to make a smooth powder and stir in the rest of the spice mix ingredients.

For the razor clams, place a large saucepan over a high heat and once hot, add the shallot, garlic, carrot, leek, wine, clams and oil. Cover with a lid and steam for 30 seconds. Take off the heat, remove the razor clams with a slotted spoon and place in a container to chill in the fridge. Pass the cooking liquor through a sieve and set aside.

When razor clams are chilled, take off their shells, discard the skirt and wash off any brown parts. Slice thinly and set aside the razor clam shells.

Bring 50ml/2fl oz of the razor clam liquor to the boil. Slowly add the cold, diced butter and use a handheld blender to create an emulsion.

For the John Dory, heat the oil in a frying pan and sauté the fish skin-side down until cooked through and crisp. Leave to cool slightly. Mix 1 tablespoon tandoori spice mixture, 1 tablespoon water and 1 tablespoon olive oil in a small bowl (the rest of the mixture can be stored in an airtight container for up to 6–8 weeks). Brush the fish with the tandoori paste.

To serve, warm the sliced razor clams, palm hearts, half of the chopped lettuce and the chives in the razor clam emulsion in a saucepan. Mix the remaining lettuce with olive oil and sea salt and place in the reserved clam shells. Serve with the tandoori fish, palm hearts mixture, pink grapefruit segments and whole Little Gem leaves.
This recipe is from...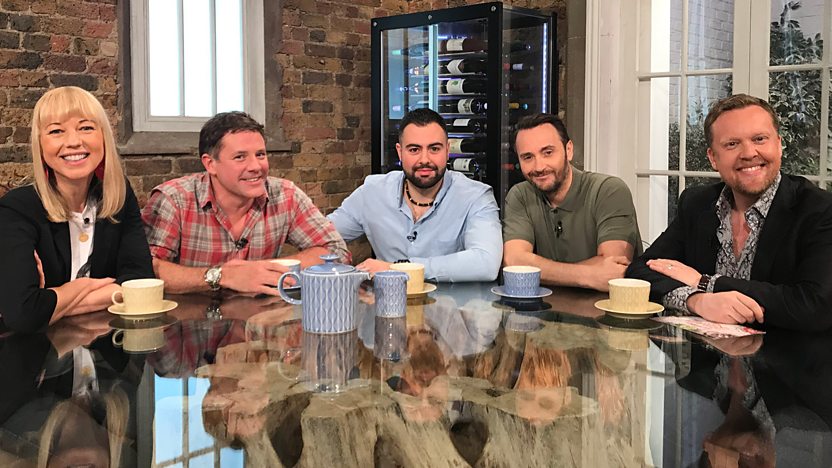 Saturday Kitchen
23/03/2019