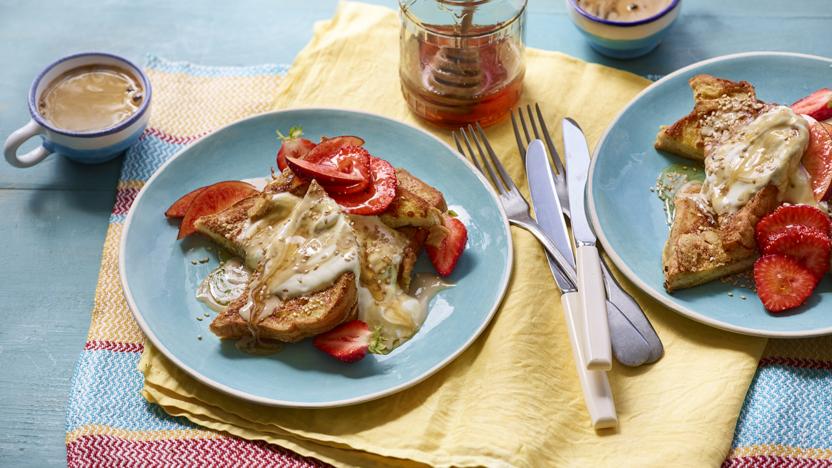 Tahinopita is a Cypriot sweet bread, not dissimilar to a cinnamon bun, but with sweetened cinnamon tahini laced in the swirl instead of butter. They can be found in bakeries all over Cyprus most of the year, but they are most popular during times of fasting, as traditionally they don't contain any animal products. I regularly adopt the same flavour profile for breakfast, using it in french toast and pancakes, and even in baking. If you think about the combination of peanut butter and jam, you are on the right path. But using tahini and honey instead, which really is the dreamiest combination.
Method
Spoon 2 tablespoons of the tahini into a wide shallow bowl and slowly whisk in the milk and cream. Whisk in the eggs, cinnamon, sugar and salt until a smooth custard is formed. Place a large frying pan over a medium heat and add half of the butter. Lay two slices of bread in the custard. Leave for 30 seconds, then turn the slices over and soak for a further 30–60 seconds. The bread should absorb as much liquid as possible without disintegrating.

Fry the bread slices for 3 minutes until golden underneath, then turn over and fry for a couple more minutes. Sprinkle 1 teaspoon of sesame seeds on top of each bread slice and press them in gently. Flip the bread slices back over and sear for 1 more minute until golden. Set aside the remaining sesame seeds. Transfer the bread slices to a plate or board, wipe out the pan and repeat with the remaining bread slices. 

Cut each bread slice into two triangles and place on four warmed plates. Top each plate with a generous spoonful of yoghurt, the remaining tahini, the remaining sesame seeds and a drizzle of the honey. Serve with the seasonal fruit.  
Recipe Tips
Traditional Tahinopita involves swirling bread dough with sweet tahini paste. This French toast version produces a similar flavour but in a fraction of the time!
Here I've created a crust on the french toast with sesame seeds, but if that feels a bit much and you don't feel confident then skip this step. It'll still be delicious.
The mixture is a little wetter than regular french toast, it's a cross between eggy bread and pain perdu which gives it a custardy finish.