Tahini and honey pancakes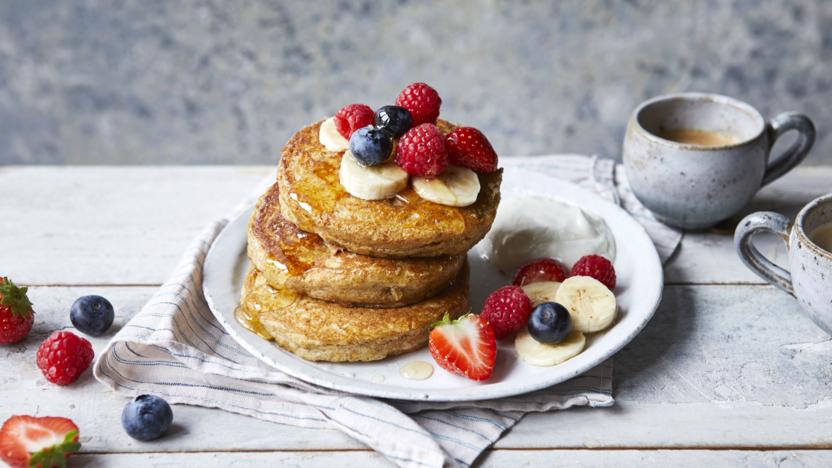 Make your pancakes healthier with a mix of wholemeal flour, tahini, banana and spices.

Each serving provides 525 kcal, 20g protein, 80g carbohydrate, 12g fat,11g fibre.
Ingredients
For the pancakes
For the tahini yoghurt
For the topping
Method
Preheat the oven to 140C/120C Fan/Gas 1. To make the pancakes, pour the milk into a small saucepan. Cut open the teabags and add the leaves to the milk with the cinnamon and cardamom. Bring to a gentle simmer over a medium heat, then remove from the heat and leave to cool slightly.

Stir the flour, bicarbonate of soda, cream of tartar and granulated sweetener together in a large bowl. Put the tahini, banana and egg into a separate bowl and pour in the tea-infused milk through a strainer. Whisk well to combine.

Pour the banana mixture into the flour mixture and whisk well until combined, making sure there are no lumps.

Place two large frying pans over a medium heat and add a few sprays of oil to each. Drop 3 large spoonfuls of batter into each pan, spacing them well apart. Cook for 1 minute and then flip each one over and cook on the other side for 1 minute. Flatten them a little with the back of the spoon as they cook. Put the six pancakes onto a tray and keep warm in the oven, while you cook the second batch.

For the tahini yoghurt, mix the ingredients together in a small bowl.

Pile the pancakes onto plates and top with the sliced banana and berries. Add a drizzle of honey and serve with a dollop of tahini yoghurt.
This recipe is from...
Recipes from this episode