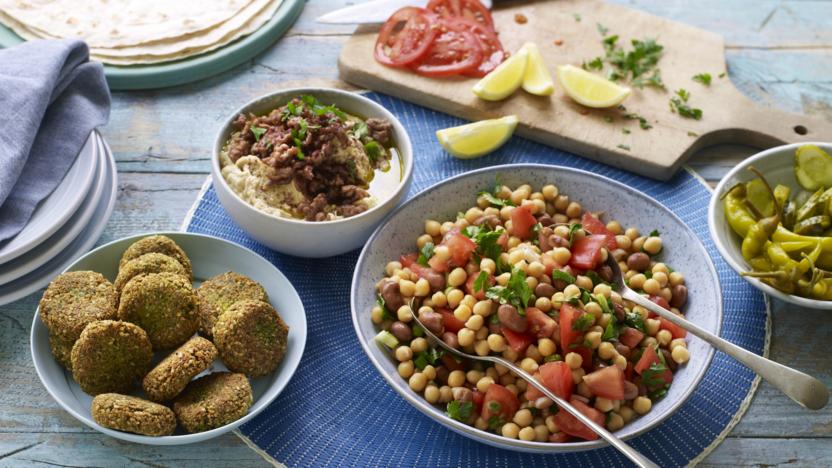 In Syrian culture, breakfast is a large spread of assorted small plates. It's a time for family and conversation and the meal can take a couple of hours. If you want to up your weekend breakfast game, this is the recipe for you.
Ingredients
For the falafels
For the falafel sauce
For the hummus
For the chickpea salad
For the fatteh
Method
Drain the chickpeas and tip two-thirds of them into a saucepan, reserving the last third for the falafels. Cover with water and bring to the boil. Reduce the heat and simmer for 45–50 minutes, or until tender. Alternatively, cook in a pressure cooker for 20 minutes. Drain, reserving the cooking liquid.

Meanwhile, to make the falafels, put the reserved uncooked chickpeas in a food processor and blend with the fresh coriander, parsley, garlic, spices and sesame seeds. Add a little warm water if the mixture is too thick. Season to taste. Shape into 20 falafels.

To make the falafel sauce, mix the tahini with the yoghurt and lemon juice and season to taste.

To make the hummus, put half the cooked chickpeas in a food processor. Add the tahini, garlic, olive oil, yoghurt, lemon juice and some seasoning. Add the ice cubes and blend again, until you have a smooth hummus. Heat the vegetable oil in a small saucepan over a medium heat. Fry the lamb mince until golden brown, breaking it up as it cooks.

Spoon half the hummus into a dish and top with the cooked lamb. Garnish with the sumac and parsley. Keep the remaining hummus for the fatteh.

To make the chickpea salad, mix half the remaining cooked chickpeas with the beans. Add the remaining ingredients and season to taste.

To make the fatteh, preheat the grill to high and toast the pitta breads. Leave to cool, then cut into cubes. Drizzle with a little chickpea cooking liquid. Spoon the remaining hummus into a small bowl and mix with a little chickpea cooking liquid – it should be a little thicker than double cream. Place the lightly soaked pittas on a serving dish. Cover with the last of the cooked chickpeas. Garnish with the sumac and olive oil.

Heat a deep saucepan of vegetable oil to 160°C, or until a cube of bread browns in 30 seconds. (CAUTION: hot oil can be dangerous. Do not leave unattended.). Fry the falafel in batches for 5 minutes, or until golden brown. Drain on kitchen paper and sprinkle with sumac.

Split the flatbreads in half so you have four large circles. Spoon falafel sauce along the middle, top each with five falafel, a quarter of the beef tomato and pickles, some parsley and a squeeze of lemon. Wrap. Repeat for the remaining wraps.

Place a griddle over a high heat and, when hot, cook the wraps until hot and charred.

Serve the flatbread wraps with the fatteh, chickpea salad and hummus. Serve with the chickpea salad, fatteh and hummus.