Sweet sticky spicy ribs with red onion salad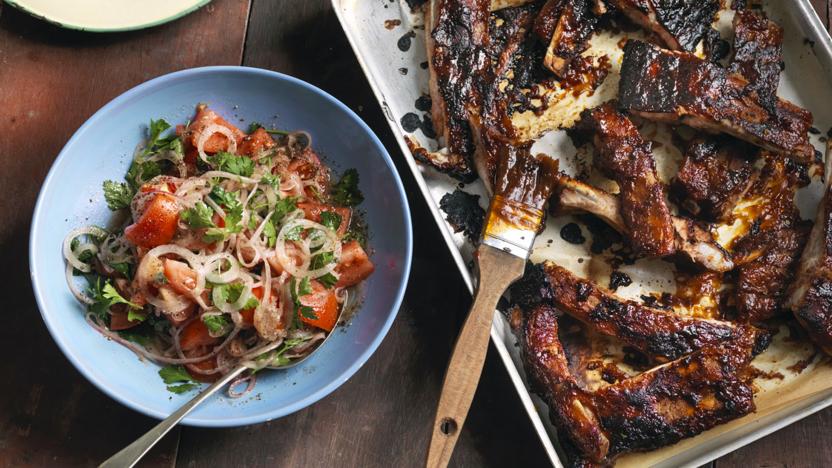 These ribs are poached ahead of being roasted in a sweet sticky marinade to make them tender as anything.

Ingredients
For poaching the ribs
For the marinade
For the salad
Method
To poach the ribs, place the ribs into a large, wide saucepan or stockpot over a high heat. Cover with water and add the onion, garlic and peppercorns. Bring to the boil, then reduce the heat and simmer, covered, for one hour, or until the meat is tender.

Preheat the oven to 180C/455F/Gas 4.

For the marinade, heat a deep-sided frying pan until hot, then add the olive oil, onions and garlic. Fry for 4-5 minutes, or until the onion has softened.

Add the chillies, chilli flakes, fennel seeds and brown sugar and cook for a further 1-2 minutes, until the sugar has melted.

Add the tomato ketchup and soy sauce. Bring to the boil, then reduce the heat and simmer for ten minutes, until thickened. Remove from the heat and allow to cool slightly, then transfer to a food processor and blend to a smooth paste.

Remove the ribs from the poaching liquor and place onto a baking tray. Spoon the marinade over the ribs, turning to make sure they are completely coated. Place into the oven to roast for 15 minutes, or until sticky and heated through.

Remove from the oven and slice the rack into individual ribs.

For the salad, place the red onion, tomatoes and parsley leaves into a bowl.

Place the olive oil and vinegar into a separate bowl and whisk to combine. Pour the dressing over the salad and season, to taste, with salt and freshly ground black pepper.

To serve, place the ribs onto plates and place a portion of salad alongside.