Sweetcorn fritters with sweet chilli dip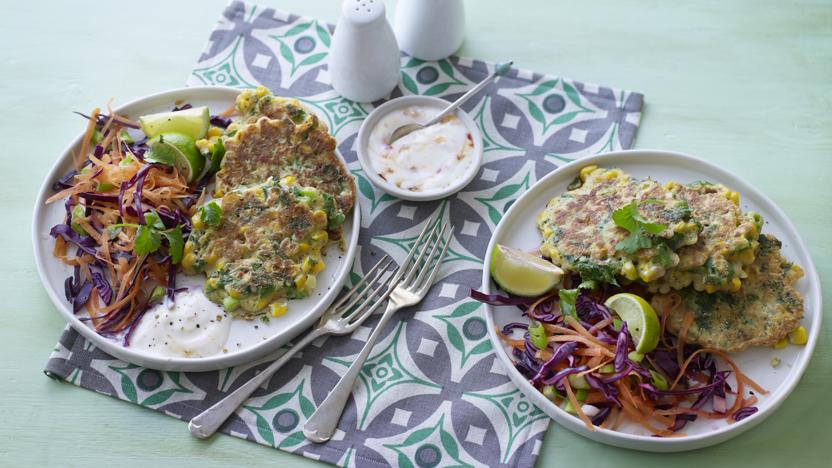 Cheap sweetcorn fritters are quick to make and really tasty. They are also a good low-calorie option, for anyone eating a diet of 1200–1500 calories a day.

Each serving provides 397 kcal, 14g protein, 53g carbohydrates (of which 20g sugars), 12.5g fat (of which 3g saturates), 8.5g fibre and 1.9g salt.
Ingredients
For the rainbow slaw
Method
Break the egg into a bowl and add the flour and 2 tablespoons of water. Beat with a wooden spoon until smooth and thick. Stir in the sweetcorn with the liquid contents of its tin and add the spring onions, chilli, coriander, salt and lots of pepper. Mix well.

Heat half of the oil in a large, non-stick frying pan. Gently drop 3 large spoonfuls of sweetcorn batter into the pan, keeping the fritters about 2–3cm/¾–1¼in apart. Flatten slightly with the back of a spoon. Cook over a medium–high heat for 3–4 minutes, or until the surface of each fritter looks dry and set and the base is lightly browned.

Turn over with a spatula and cook on the other side for a further 2–3 minutes, or until lightly browned and cooked through. Transfer to a warmed plate, lined with kitchen paper. Add the remaining oil to the pan and cook the remaining 3 fritters in the same way.

While the fritters are cooking, mix the yoghurt with the chilli sauce. For the slaw, mix together the cabbage, carrot, spring onions and lime juice in a small bowl. Serve the fritters with the chilli-yogurt dip, slaw, tomatoes, mixed leaves and lime wedges for squeezing over the top.