Sweet scones with coconut cream and pink peppercorn pineapple jam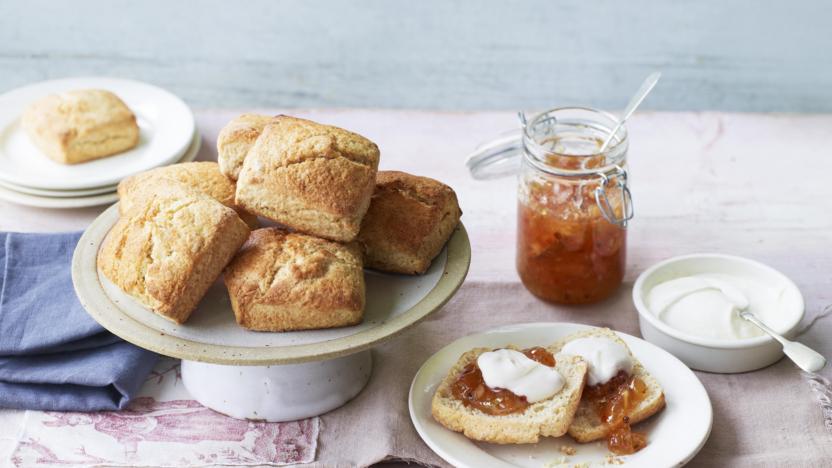 There are many opinions about how to serve scones, but when you love a scone, who cares how you eat it? To prove my point, I've gone for a re-invention of the classic, with whipped coconut cream instead of clotted cream and fragrant pineapple jam instead of strawberry.
Ingredients
For the jam
For the scones
For the coconut cream
Method
Preheat the oven to 220C/200C Fan/Gas 7 and line a baking tray with baking paper.

To make the jam, put all the ingredients in a large saucepan over a high heat. Bring to the boil, then reduce to a simmer for 15–20 minutes, until it reaches 105C – you can test it with a sugar thermometer or place a plate in the freezer in advance. Place a drop of the jam on the cold plate and leave for a few seconds, then push it with your finger and if it wrinkles the jam is ready. Transfer to a bowl to cool completely.

To make the scones, put the flour, sugar, baking powder and salt into a large bowl and mix. Rub in the butter using your fingertips until the mixture resembles breadcrumbs. Make a well in the centre and add the milk. Mix with a palette knife, then gently bring the dough together using your hands.

Turn the dough out on to a lightly dusted surface and roll out to a 15cm/6in square. Then cut into 5cm/2in squares. Place on lined the baking tray, brush the tops with milk and bake on the middle shelf for 12–15 minutes. Leave to cool completely on a wire rack.

For the coconut cream, scoop out the solidified cream on top of the tin and place in a bowl, discarding the liquid underneath. Whisk the vanilla bean paste and icing sugar into the cream.

Split the scones and enjoy with cream and jam, or jam and cream, in whichever order you prefer.