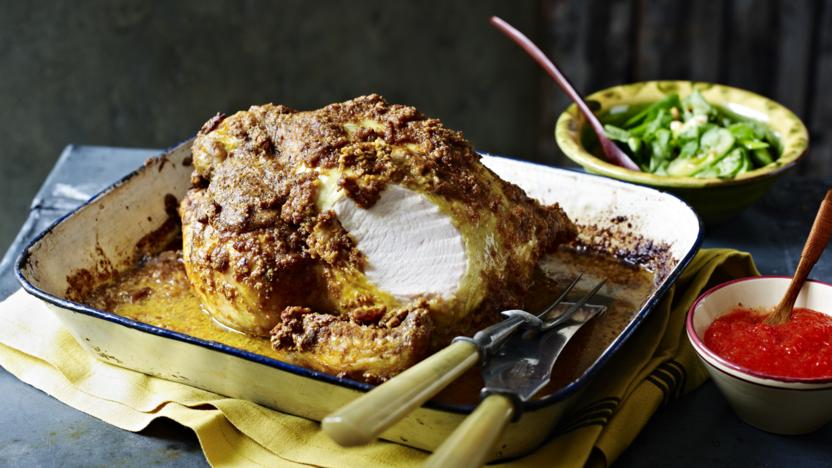 Roast chicken like you've never had it before. Try serving this with rice on a Sunday for a lighter, spicier, Indonesian alternative.

Equipment and preparation: for this recipe you will need a food processor.
Ingredients
For the chicken
For the chilli dip
For the salad
Method
Mix together the turmeric and cumin, add some cold water to make a paste and rub it all over the chicken. Cover the chicken with cling film, place it in the fridge and leave overnight.

Pulse the peanuts in a food processor (they should be a mixture of fine and coarse pieces) and set aside. Place the lemongrass, galangal and garlic into the food processor and blend to a fine paste. Transfer to a bowl, add the coconut milk, ketjap manis, dried chilli flakes, lime zest and chopped peanuts. Cover and set aside overnight.

The next day, preheat the oven to 120C/250F/Gas ½.

Place the chicken in a roasting tray and pour the marinade over. Roast very slowly for two hours, basting with the sauce half way through. After this time turn the oven up to 200C/400F/Gas 6 and continue to cook for a further 20 minutes. Be careful not to burn the chicken, if needs be, you can add a splash or two of water while cooking. Remove from the oven, baste and leave to rest for 20 minutes.

Meanwhile, to make the chilli dip, place the red peppers, chillies, garlic, sugar and white wine vinegar into a food processor and blend to a rough purée. Pour the mixture into a saucepan and bring to the boil. Cook for around three minutes then whisk in the cornflour mixture and cook until the sauce thickens. Finish with the lime juice, salt and chilli flakes. Set aside to cool.

For the salad, place the spring onions, peanuts, green chillies and cucumber and coriander into a bowl. Mix the honey, soy sauce, sesame oil and lime juice together, pour over the salad and mix thoroughly. Serve with the chicken and chilli dip.
This recipe is from...
Recipes from this episode