Sunken chocolate amaretto cake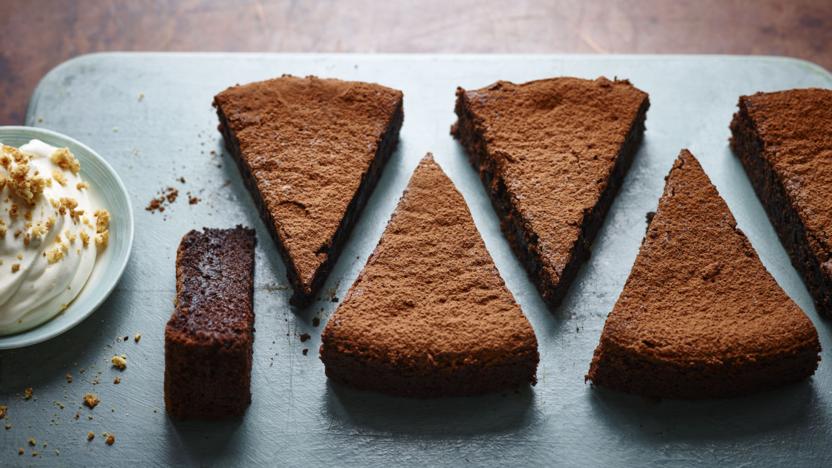 Preparation time
less than 30 mins
Cooking time
30 mins to 1 hour
This is one of those dark, squidgy-bellied chocolate cakes that I turn to gratefully when I have friends over to supper; a gratitude that is always reciprocated. The mixture of ground almonds and amaretto gives a marzipan kick, balancing the bitterness of the chocolate. The amaretti cream alongside brings both smoothness and a fine honeycomb crunch to the velvetiness of the cake.

Equipment: You will need a 20cm/8in springform cake tin.
Preparation time
less than 30 mins
Cooking time
30 mins to 1 hour
Ingredients
For the cake
For the amaretti cream
Method
Preheat the oven to 180C/160C Fan/Gas 4 and lightly grease the sides and line the base of your springform cake tin with baking paper.

Melt the chocolate and butter in a heatproof bowl, either over a pan of boiling water, making sure the bowl doesn't touch the water, or in a microwave. Pour into a jug and leave to cool a little.

Whisk the eggs and sugar until thick, moussy and doubled, if not tripled, in volume. This will take 2–3 minutes, using a freestanding mixer, or 4–5 minutes with an electric hand whisk.

Mix the almonds and cocoa together in a small bowl. Turn the mixer speed to low and gently whisk into the eggs and sugar, tablespoon by tablespoon.

Stir the amaretto liqueur into the slightly cooled, melted chocolate and butter, then pour this glossy mixture in a slow, steady stream into the cake batter, whisking all the time; it will look like a fabulous chocolate mousse. Give a final fold by hand to make sure everything is combined.

Pour and scrape the batter into the prepared tin. Bake for 20–25 minutes until the cake is beginning to come away at the edges, the top has formed a slightly cracked and bubbled thin crust the colour of pale milk chocolate – the cake will be dark and tender underneath – and a cake tester comes out with just a few damp crumbs cleaving to it.

Remove to a wire rack, drape a clean tea towel over the tin and leave to cool. As it cools, the top of the cake will crack a little more, and it will sink slightly, leaving a frilly edge. Once the cake is cold, unclip the tin, and gently lift the cake out – remove the base only if you are very brave – onto a cake stand or plate. Dust the teaspoon of cocoa through a tea strainer over the top, rather like the coating on a chocolate truffle.

Just before serving, whip the cream and amaretto together, until ripples start showing on the surface and it's thickened but still soft enough to dollop alongside the cake. Very gently fold most of the crumbled amaretti biscuits into the cream, which will thicken it slightly more. Decant into a small serving bowl and sprinkle the rest of the amaretti crumbles on top.