Pork chops with cider and apples
Preparation time
less than 30 mins
Cooking time
30 mins to 1 hour
Who said pork chops couldn't be posh? Give them apples, onions and mustard, as well as plenty of mash, and you'll have a classy dinner that satisfies.
Preparation time
less than 30 mins
Cooking time
30 mins to 1 hour
Ingredients
4 x 200g/7oz pork chops
4 tsp sea salt flakes
2 tbsp olive oil
2 onions, peeled, finely chopped
150g/5oz smoked bacon, chopped
1 bouquet garni (celery, parsley, bay leaves and thyme)
300g/10½oz button mushrooms
300g/10½oz shallots, peeled, cooked for ten minutes, then drained and refreshed in cold water
4 Cox's apples, peeled, cores removed, quartered
4 tbsp muscovado sugar
500ml/17½fl oz Suffolk cider
4 tsp English mustard
400ml/14fl oz double cream
cooked carrots, to serve
mashed potatoes, to serve
Method
Roll the fat sides of the pork chops in the salt flakes.

Heat a griddle pan until smoking. Sear the fat side of the pork chops in the pan for 1-2 minutes, using tongs to keep the pork chops upright in the pan. When the fat is golden-brown and crisp, lay the pork chops down flat and fry for 3-4 minutes on both sides, or until the pork chop has deep griddle marks all over. Set aside.

Meanwhile, heat the olive oil in a large frying pan and fry the onion and bacon together for 4-5 minutes, or until the onion is starting to colour. Add the bouquet garni, button mushrooms and shallots to the pan and cook over a medium-low heat for 3-4 minutes.

Pour the cider into the pan and deglaze by scraping up any browned bits from the bottom of the pan with a wooden spoon, then bring to the boil. Add the pork chops and cook for 10-15 minutes, or until the pork is cooked through (the juices should run clear when the pork is pierced at the thickest part).

Meanwhile, dust the apple pieces with the muscovado sugar. Place the griddle pan used to cook the pork back over the heat, then add the apples and cook for 8-10 minutes, or until the apples are golden-brown and caramelised.

Remove the pork chops from the pan and set aside to rest. Return the pan to the heat and bring to a rapid boil, then stir in the mustard and cream and cook for 4-5 minutes, or until the liquid has reduced to a sauce consistency.

To serve, spoon the caramelised apples onto serving plates and arrange a pork chop next to the apples, with the cooked carrots and mashed potatoes alongside. Spoon over the sauce and serve.
Related Recipes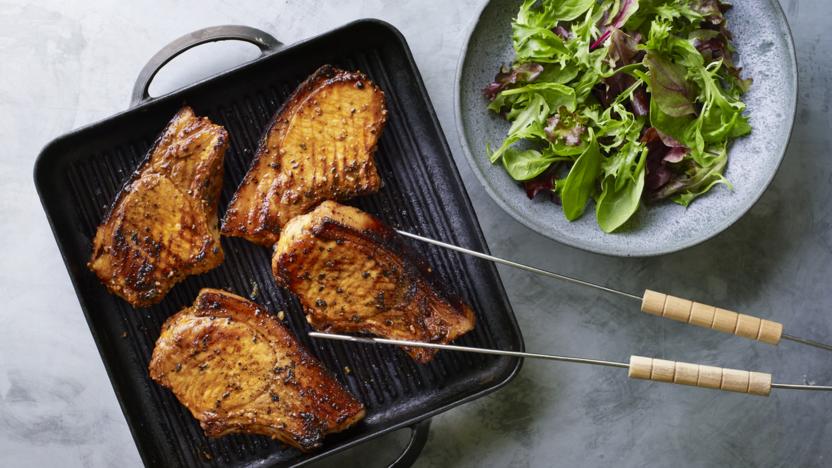 See more pork chop recipes (33)