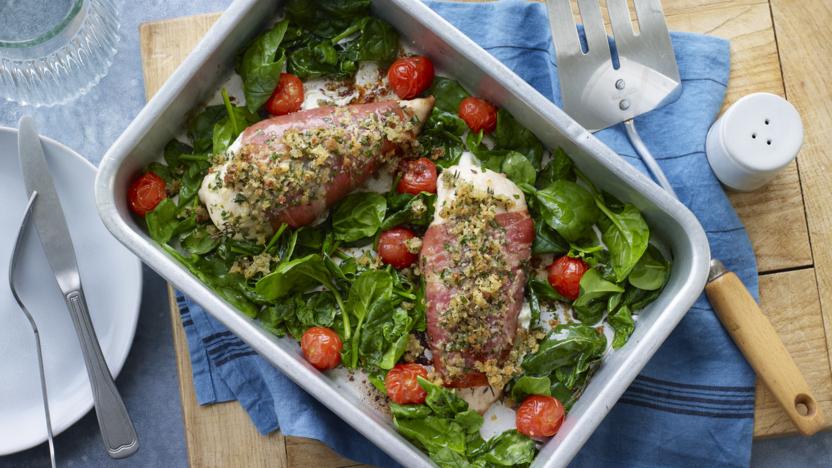 An easy chicken recipe for two that won't fail to impress. Serve with steamed new potatoes for a bigger meal.
Method
Preheat the oven to 190C/170C Fan/Gas 5.

Turn the chicken breasts over so that the smooth side is on the chopping board and using a small sharp knife cut a pocket the length of the breast and under the small false fillet and being careful not to cut all the way through the chicken breast.

Open the pocket up and neatly spread the cheese into the pocket. Fold the chicken back over to seal the cheese inside. Turn the chicken breasts back over so that they are smooth side up and lay a thyme sprig on top of each. Carefully wrap each chicken breast in two overlapping slices of ham and place the chicken in a small roasting tin.

In a small bowl mix together the parsley, breadcrumbs, Parmesan and lemon zest and season with salt and freshly ground black pepper. Scatter over the chicken breasts, drizzle with olive oil and cook for 10 minutes.

Arrange the cherry tomatoes around the chicken and cook for another 10 minutes until the chicken is cooked through and the tomatoes are softened. Add the spinach to the pan, mix into the pan juices and return to the oven for a further minute to wilt the leaves. Serve between two plates.