Strawberry mascarpone tart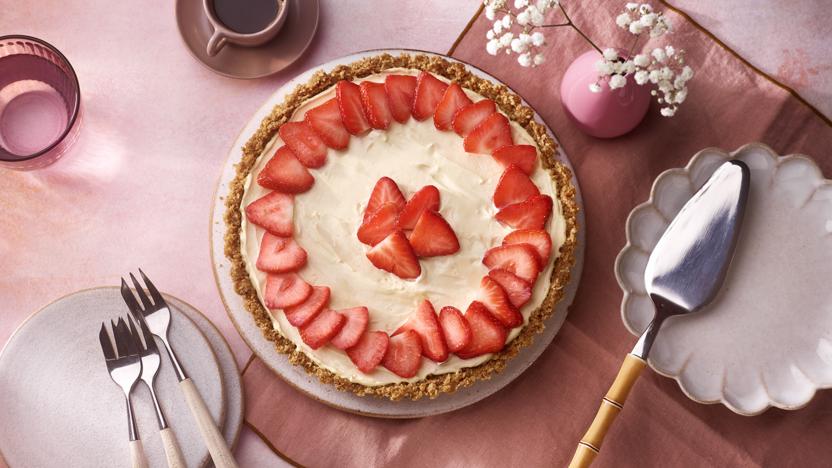 Nigel Slater's no-bake strawberry tart is exceptionally simple to make, with a biscuit base that can survive a hot kitchen.

Ingredients
For the crumb case
For the filling
Method
You will need a rectangular tart tin with a removable bottom. I used a long, thin one, 34x12cm/13x5in, but you can make it in something shorter and wider if that is what you have.

For the crumb case, melt the butter in a small saucepan. Place the biscuits in a food processor and process to fine crumbs (alternatively, place in a plastic bag and bash with a rolling pin, taking care not to split the bag).

Mix the crumbs thoroughly with the melted butter and spoon into a 25cm/10in diameter loose-bottomed flan tin. Press the crumbs firmly over the base and up the sides of the tin to cover completely. Transfer to the fridge to chill until firm.

For the filling, put the egg yolk into a bowl with the caster sugar and beat for a few seconds until thoroughly mixed.

Add the mascarpone and beat until thoroughly combined. Stir in the vanilla extract.

In a separate bowl, beat the egg white with a clean whisk until stiff peaks form when the whisk is removed from the bowl. Gently fold the egg white into the mascarpone mixture.

Remove the biscuit case from the fridge. Spoon the mascarpone mixture into the biscuit case and gently smooth the top with a spatula. Arrange the sliced strawberries on top of the mascarpone.

Transfer to the fridge and chill. Remove the tart from the fridge 20 minutes before serving.
Recipe Tips
You can easily make this with gluten-free biscuits for a gluten-free strawberry tart.
Related Recipes
See more Berry recipes (20)
See more tarts recipes (85)
See more mascarpone cheese recipes (154)