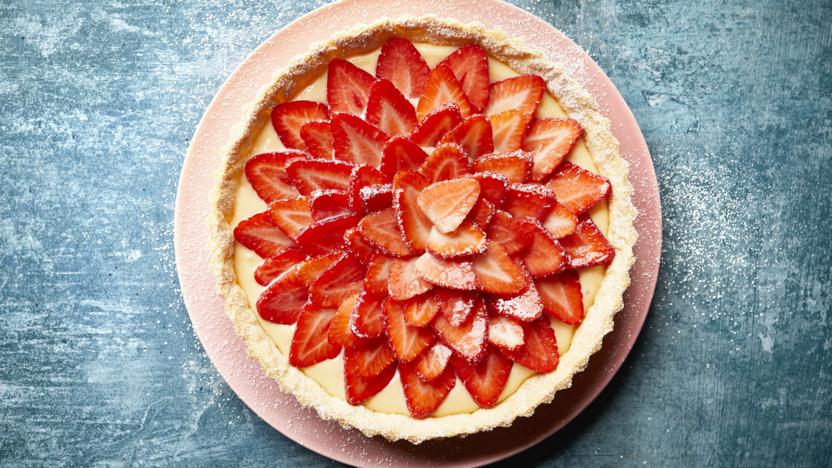 This impressive strawberry tart looks as if it's come straight from an upmarket bakery. You will need to allow plenty of time, but as long as you take it step by step it's not difficult to make.
Ingredients
For the pastry
For the crème pâtissière
To decorate
Method
To make the pastry, put the butter and icing sugar in a food processor and blitz until combined. Add the egg yolks and blitz until smooth. Add the flour and salt and blitz until a dough starts to form. Shape the dough into a ball, flatten to a disc and then wrap and chill in the fridge for around 30 minutes.

To make the crème pâtissière, heat the milk, vanilla paste and salt over a low heat until gently steaming. Meanwhile, put the egg yolks, sugar and cornflour in a bowl and stir together until smooth and thick. Slowly pour in the hot milk in a thin stream, stirring with a whisk. Pour the mixture back into the pan and cook over a low heat, stirring constantly, until thickened. Remove from the heat and stir in the butter until it melts and combines with the thickened mixture. Pour the mixture into a bowl and cover the surface with cling film to prevent a skin from forming. Leave to cool for 10 minutes, then chill until needed.

Tip the dough onto a lightly floured work surface and dust a bit more flour on top. Roll out to form a circle about 30cm/12in in diameter. Line a 23cm/9in loose-bottomed fluted tart tin with the pastry, gently pressing it down into the tin and up the sides. Leave the pastry overhanging the edge of the tin and trim away any excess pastry. Prick the base all over with a fork, then chill for 30 minutes.

Preheat the oven to 200C/180C Fan/Gas 6.

Remove the tart tin from the fridge and place on a baking tray. Take a large square of baking paper and crumple it up into a ball, then uncrumple it and use it to line the pastry. Fill with baking beans to support the edges as the pastry bakes. Blind bake for 10–12 minutes, until the edges are just turning golden. Lift out the baking paper and beans and bake for a further 7–10 minutes, until golden and crisp all over. Leave to cool.

Sprinkle the strawberries with the caster sugar and set aside for 5 minutes until they begin to release their juices. Remove the crème pâtissière from the fridge and stir briefly until smooth. Pour it into the cooled pastry case and spread evenly. Decorate with the strawberries in concentric circles. Cut into slices and serve.