Strawberry and almond meringue roulade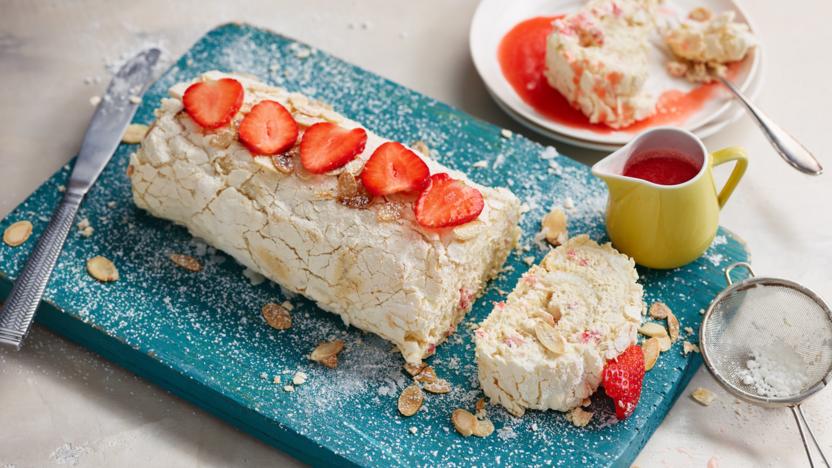 Strawberry meringue roulade looks impressive, but it's just a rolled up pavlova. This one is a little more robust with ground almonds. Plus lots of cream.
Method
Preheat the oven to 200C/180C Fan/Gas 6. Grease a 34x22cm/13×8½in Swiss roll tin and line with baking paper, ensuring the edge of the paper fits exactly into the tin.

Ensuring the bowl is clean and grease-free, whisk the egg whites in a stand mixer or using an electric whisk until they form stiff peaks. Gradually add the caster sugar, a few tablespoons at a time, whisking continuously until you have stiff, glossy peaks. This may take up to 6–8 minutes. Fold in the vinegar, cornflour, ground almonds and salt.

Transfer the mixture to the prepared tin and smooth out using the back of a spoon. Bake for 8 minutes until golden, then turn down the oven to 160C/140C Fan/Gas 3 and bake for another 20 minutes until just firm and slightly springy to the touch.

Shortly before the meringue has finished cooking, scatter the almonds on a baking tray and roast in the oven for 3–4 minutes, or until golden-brown and aromatic.

Place a large sheet of baking parchment on your work surface and dust liberally with the remaining 2 tablespoons of caster sugar. Carefully invert the meringue onto the parchment. (The easiest way to do this is to place a thin chopping board, roughly the size of the baking tin, on top of the meringue, invert the meringue onto the board, peel off the baking paper and then carefully slide the meringue off the board onto the sugar-dusted baking parchment.) Score a line 2cm/¾in in from the edge along a long side of the meringue, ensuring you do not cut all the way through. Leave to cool for 10 minutes while you make the filling.

Whisk the cream until soft peaks form. Using a fork, lightly mash half of the strawberries, so they still have a little bit of texture but have released their juices. Stir the mashed strawberries through the whipped cream and spread the mixture over the meringue, leaving a 1–2cm/½–¾in border all round. Using the baking parchment, roll up the meringue (the line you scored earlier will help you to roll it up tightly). Wrap the parchment around the roll, place it seam-side down on a serving platter and refrigerate for at least 30 minutes, or until well chilled.

Meanwhile, put the remaining strawberries and the icing sugar into a food processor and blend until smooth. Pass through a fine sieve into a bowl and set aside.

To serve, unwrap the roulade and arrange some strawberries on top, scatter over the almonds and dust with icing sugar. Serve immediately, drizzled with strawberry sauce.
Recipe Tips
Remember to let the meringue cool completely before rolling!
This recipe is from...
Recipes from this episode