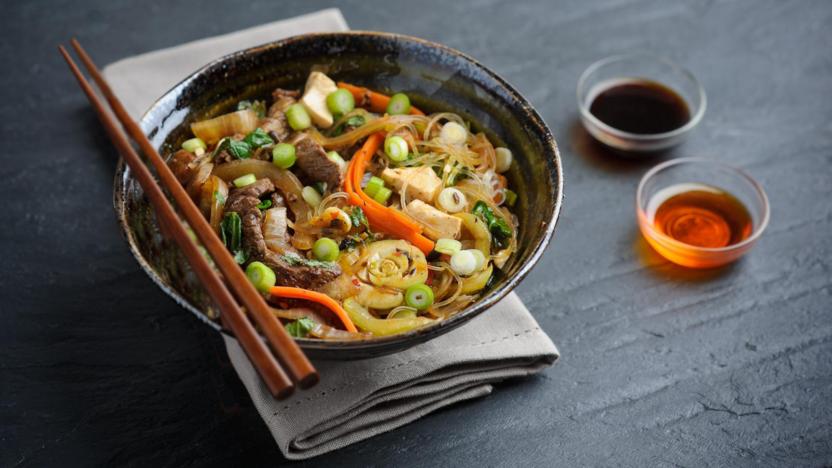 Stir-fried beef with rich black bean sauce and noodles - who can even think of phoning the takeaway?
Ingredients
For the beef
For the noodles
175g/6oz bean thread (glass) noodles
1 tbsp groundnut oil
2 tbsp black beans, coarsely chopped
3 tbsp spring onions, finely chopped
2 tbsp garlic, coarsely chopped
1 tbsp ginger, finely chopped
110g/4oz carrots, finely chopped
110g/4oz bean curd, finely chopped
225g/8oz Chinese flowering cabbage or pak choi, finely chopped
250ml/9fl oz water
2 tbsp Shaoxing rice wine or dry sherry
1½ tbsp chilli bean sauce, from a jar
1 tbsp whole yellow bean sauce, from a jar
2 tbsp light soy sauce
2 tsp dark soy sauce
½ tsp salt
½ tsp freshly ground black pepper
2 tsp sesame oil
2 tsp spring onions, finely chopped, to serve
Method
For the beef, place the beef strips into a bowl and add the light soy sauce, rice wine and cornflour and mix well. Leave to marinate for 10-20 minutes.

Heat a wok until very hot and then pour in the oil.

Add the marinated beef and stir-fry for one minute, or until browned all over. Remove the beef with a slotted spoon and set aside.

Add the onions to the wok and stir-fry for 1-2 minutes

Pour in the water and cook for three minutes.

Drain off the juices collected from the beef and add to the wok.

Add the oyster sauce and stir for a minute then return the beef to the wok and add the mint leaves. Continue to stir-fry for one minute then remove from the heat.

For the noodles, soak the noodles in a large bowl of warm water for 15 minutes. When they are soft, drain them and discard the water.

Cut the noodles into 7.5cm/3 in lengths.

Heat a clean wok until hot, then add the groundnut oil. When it is very hot and slightly smoking, add the black beans, spring onions, garlic and ginger and stir fry quickly for 15 seconds.

Add the carrots and stir fry for two minutes.

Add the bean curd and Chinese flowering cabbage or pak choi and carefully mix together without breaking up the bean curd.

Add all of the remaining ingredients, except the sesame oil and cook the mixture over a gentle heat for about two minutes.

Now add the drained noodles and sesame oil and cook for a further three minutes.

To serve, ladle some of the noodles and sauce into individual bowls or into one large serving bowl. Place the stir fried beef alongside, garnish with the spring onion and serve at once.