Lighter stir-fried beef with broccoli and sweetcorn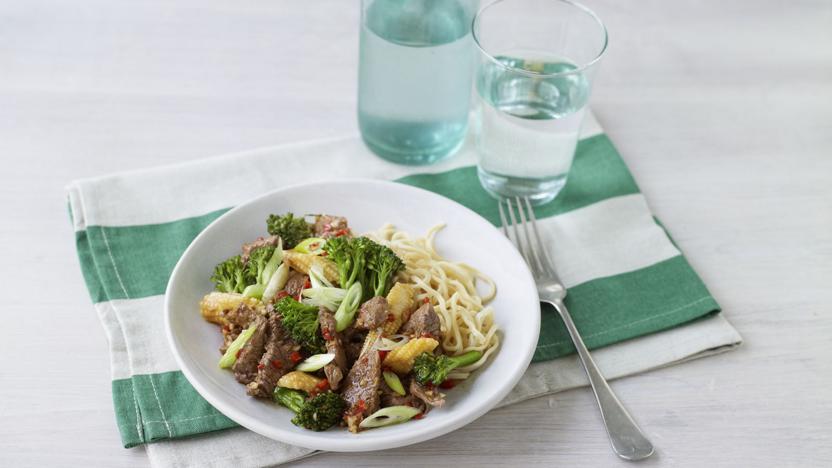 Lean beef is rich in protein and a good source of iron. It's also delicious in a stir-fry with broccoli and sweetcorn.

Each serving provides 310 kcal, 30g protein, 28g carbohydrate (of which 2.5g sugars), 7.5g fat (of which 3g saturates), 5.5g fibre and 1.9g salt.
Method
Mix the beef, oil, garlic, ginger and chilli together and leave to marinate in a shallow dish for 15 minutes.

Heat a wok or frying pan, add the beef and stir fry for 3–4 minutes.

Add the broccoli, sweetcorn and stock and cook for 5 minutes, adding a little more stock if necessary.

Place the noodles in a saucepan of water, bring to the boil and then reduce the heat. Cook for 3 minutes, or until just cooked. Drain well.

Add the noodles to the beef and vegetables, stir in the soy sauce and garnish with the spring onion. Serve.
Recipe Tips
For a 400 kcal dish, increase the quantity of beef to 140g/5oz and noodles to 40g/1½oz.