Sticky lamb buns with pickled cucumber relish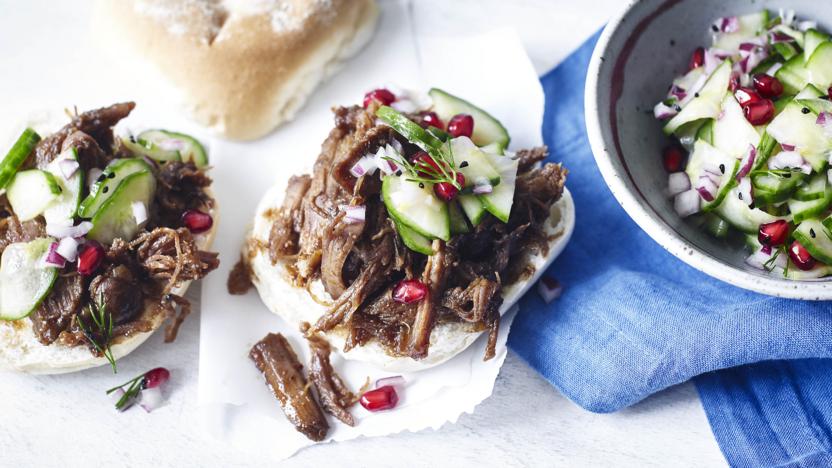 A great recipe for using up leftover roast lamb. Double the quantities to serve at small parties.
Ingredients
For the pickled cucumber relish
For the sticky lamb buns
Method
For the relish, quarter the cucumber lengthways, then thinly slice and place in a bowl along with the onion. Season with a few generous pinches of salt. Mix well and leave to rest for 15 minutes. Stir again and leave to sit for another 15 minutes. After the resting time, drain off any excess moisture and wrap the cucumber mixture in a clean tea towel or a few sheets of kitchen paper until dry.

Put the cucumber mixture in a bowl, add the vinegar, sugar and sesame oil. Mix well until the sugar is dissolved and the marinade coats the cucumber and onion. Add the nigella seeds, dill and pomegranate seeds and set aside.

For the lamb, put the shredded, cooked meat in a saucepan set over a medium heat, add the harissa, honey, cumin and cinnamon and coat the meat in the mixture. (If desired, you can soften the texture with a little oil, water or even apple juice, a tablespoon at a time.) Season with salt, to taste, and once the consistency has reached a moist and juicy meat mixture, remove from the heat.

Serve the lamb inside the bread rolls with a generous amount of relish.
Recipe Tips
To roast the lamb, you'll need a 1.4kg/3lb lamb shoulder joint. Rub with a little oil, cover the tin with aluminium foil and roast at 180C/160C Fan/Gas 4 for 4-5 hours, or until the meat is very tender.