Squid, chickpea and chorizo stew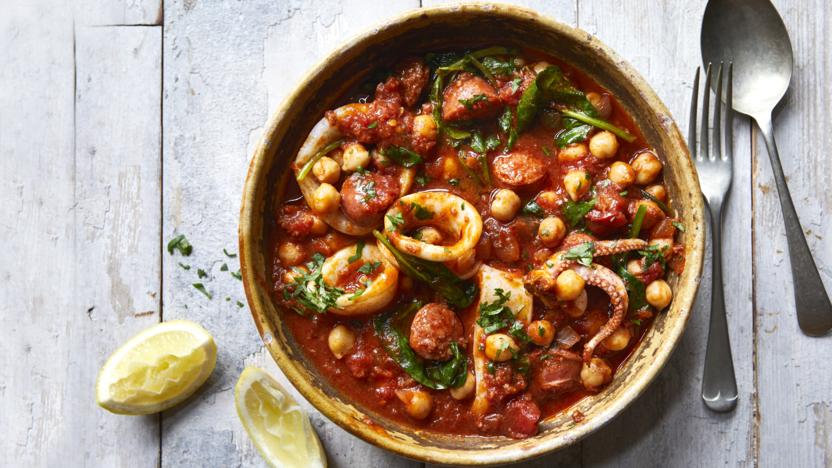 This easy one-pot Spanish-style stew gets most of its flavour from the chorizo, so buy the best you can find. Add an extra pinch of chilli if you like things a bit hotter.

Each serving provides 543 kcal, 46g protein, 32g carbohydrate, 22g fat,10g fibre.
Method
Heat the oil in a small sauté pan over a medium-high heat. Add the chorizo and cook for 2–3 minutes, or until the chorizo releases its oils and begins to turn crisp.

Add the onion to the pan and sauté for 2–3 minutes, then add the garlic and sauté for another 2 minutes. Add the chilli flakes, paprika and rosemary and cook for 3–4 minutes, adding a splash of water if the mixture starts to stick.

Increase the heat to high, add the wine and let it bubble uhtil the volume of the liquid has reduced by half. Add the chopped tomatoes and stock, bring to a simmer and cook for 10 minutes.

In the meantime, prepare your squid. Cut the pouches into 4cm/1½in pieces, scoring the inner surface, or slice into thick rounds. Cut any long tentacles in half.

Add the chickpeas to thepan and cook for 3–4 minutes, stirring occasionally. Add the squid, stir gently to submerge, and put a lid on the pan. Leave the squid to cook gently for 3–4 minutes. Season with salt and pepper, remove from the heat and stir through the spinach and half of the parsley.

Ladle into warmed bowls, grate over a little lemon zest and sprinkle with the remaining parsley before serving.
Recipe Tips
To freeze, allow to cool then freeze in portions. Defrost fully overnight in the fridge, then reheat in a saucepan over a medium heat until hot all the way through.
This recipe is from...
Recipes from this episode