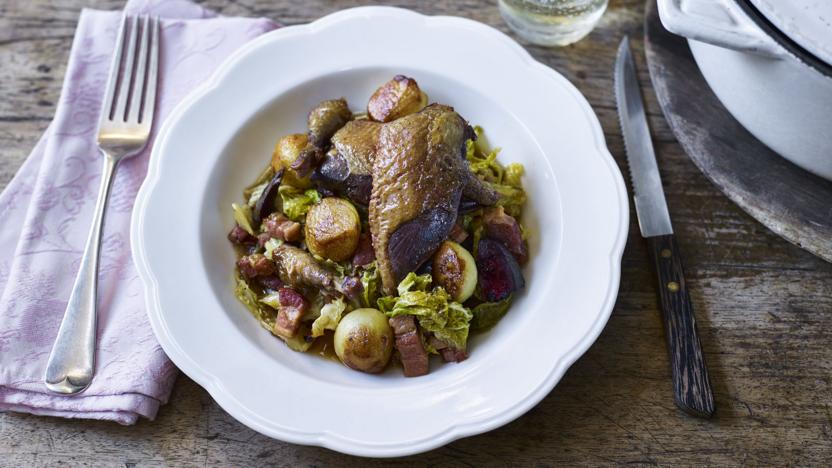 This casserole uses farmed squab pigeon, which has a milder, sweeter flavour than wild wood pigeons.
Ingredients
For the casserole
For the pommes noisettes
Method
Preheat the oven to 180C/160C Fan/Gas 4.

To make the casserole, heat 1 tablespoon of the oil and knob of the butter in a heavy-based casserole and fry the lardons and pigeon legs for 5 minutes, or until crisp and golden. Remove from the pan with a slotted spoon and set aside. Add the onions, garlic and thyme to the casserole and fry gently for 8–10 minutes, or until soft. Pour in the wine and stock, bring to the boil then reduce the heat and simmer gently for 10 minutes. Return the bacon and pigeon legs to the pan, cover with a lid and transfer to the oven for 1 hour 20 minutes.

Meanwhile, for the pommes noisettes, use a melon baller to scoop out small balls of potato. Place the potato balls in a saucepan of boiling salted water, cook for 2 minutes, drain and leave to steam.

Heat the clarified butter in a sauté pan. Add the potatoes, thyme and garlic and fry for 7–8 minutes, turning and swirling the potatoes constantly so they colour evenly. Remove the potato balls from the pan using a slotted spoon and transfer to kitchen paper to drain.

Increase the oven temperature to 220C/200C Fan/Gas 7. Season the pigeon crowns with plenty of salt and pepper. Heat a little more oil and butter in a frying pan and brown the pigeon crowns all over, basting with more butter as the skin browns. Remove the lid from the casserole, rest the crowns on top then return to the oven for for 10–12 minutes.

Remove the pigeon crowns from the casserole and set aside to rest. Put the casserole on the hob over a high heat. Add the livers and cabbage and fry quickly until the cabbage is wilted and the livers are just cooked through. Add the pommes noisettes and toss to combine.

Carve the breasts from the pigeons and serve with the casserole.
Recipe Tips
You could also use pheasant instead of pigeon when in season.