Spinach and paneer kati roll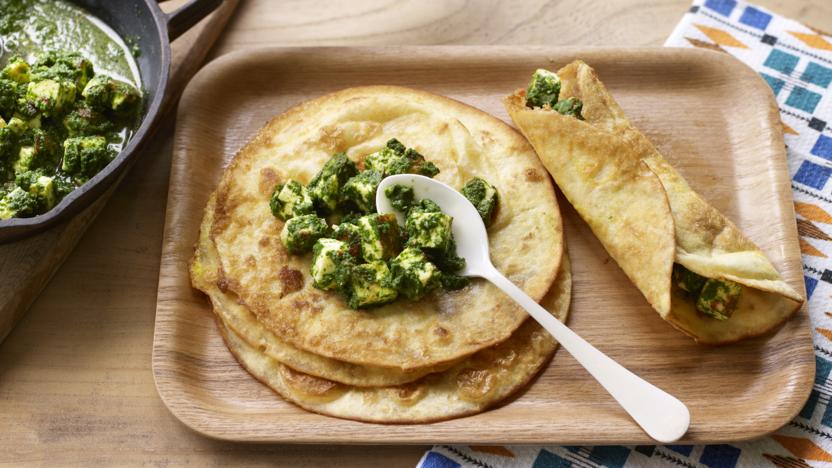 Kati rolls are a common Indian street food where they are often filled with grilled meats and piquant salads. This vegetarian version fills a crisp egg-fried tortilla with creamy spinach and paneer.


Ingredients
For the spinach and paneer
For the kati rolls
Method
Heat 2 tablespoons of the oil in a saucepan over a medium heat. Add the paneer and fry for 5 minutes, stirring occasionally. You want to colour the paneer as much as possible.

Put the spinach leaves and 150ml/5fl oz of water into a blender and whiz to a smooth paste – it should resemble a green shake. Add a splash more water if needed.

Take the paneer out of the pan with a slotted spoon and set aside. Add the remaining tablespoon of oil and the garlic to the pan and cook for 1 minute, until the garlic is light brown.

Add the green mixture, along with the cumin seeds, chilli flakes and salt, and cook on a medium heat for 5 minutes, or until some the water from around the edge has reduced and the mixture has thickened.

Add the paneer to the pan and mix well, making sure all the cheese is covered in green. Pop a lid on the pan and leave on a low heat while you make the rolls.

For the kati rolls, put a small frying pan over a high heat and add a good glug of oil, enough to at least cover the base.

Put the eggs onto a plate with the salt and lightly whisk – the plate needs to be flat enough to be able to dunk the tortillas.

Dip a tortilla into the egg mixture, making sure to cover it all over. Get it straight into the frying pan. The oil should be hot enough to really create a sizzle. Cook for 30 seconds, then turn it over and cook on the other side.

Cook the other three tortillas the same way.

To serve, take a hot crispy tortilla, add the paneer mixture in the centre and roll up. Not like a burrito, but the way a kid would make a roll for the first time. If you don't have cheese falling out the other end, you're doing it wrong!
This recipe is from...
Recipes from this episode