Spinach and mushroom gnocchi frittata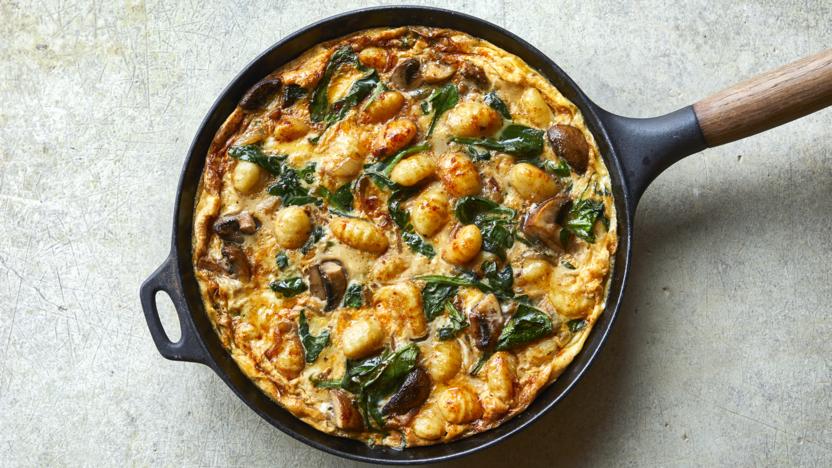 Using potato gnocchi instead of the more traditional sliced potato turns this frittata into a one-pan wonder, simple enough for busy weeknights. The gnocchi will be pillowy-soft, but will harden as the frittata cools, so do be sure to reheat any leftovers.

Serve with a side salad to make into a bigger meal!
Method
In a large lidded ovenproof frying pan, heat the butter over a medium–high heat. Gently fry the onion along with a pinch of salt for 5 minutes, or until just starting to colour.

Add the mushrooms and fry for 5 minutes, or until softened. Add the spinach, in batches, and cook for 4–5 minutes, until it has wilted.

Meanwhile, mix the gnocchi with the paprika until well coated. Beat the eggs with some salt and pepper in a bowl or jug.

Turn the heat down to medium–low. Stir the gnocchi gently into the spinach mixture and pour over the eggs. Cover with the lid and cook for 10–15 minutes until the frittata is set at the edges, but still soft in the middle. Preheat the grill to 220C.

Put the pan under the grill for 4–5 minutes, or until the frittata is golden and just set.

Slide out onto a cutting board and leave to stand for 5 minutes before cutting into wedges.