Spicy Sichuan (dan dan) noodles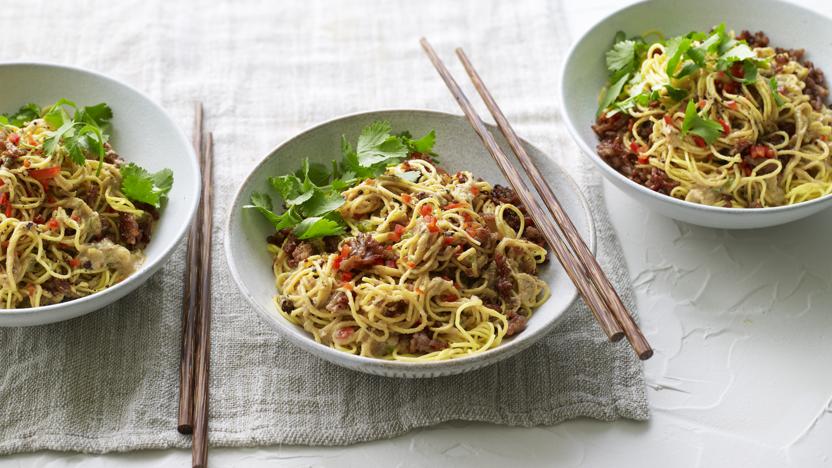 A traditional Chinese noodle favourite that combines sweet, salty and spicy flavours for a power-house of a meal.
Method
Combine the pork, soy sauce and salt in a small bowl and mix well. Heat a wok or sauté pan until it is hot. Add the oil and deep-fry the pork, stirring with a spatula to break it into small pieces (Caution: hot oil can be dangerous. Do not leave unattended). When the pork is crispy and dry, after about 5-6 minutes, remove it with a slotted spoon and drain on a plate lined with kitchen paper. Carefully strain and reserve the oil. You can also roast the pork mince in the oven at 200C/180C Fan/Gas 6 for 20 minutes or until browned, if preferred.

Pour two tablespoons of the pork oil back in the wok over a medium-high heat. Stir-fry the garlic, ginger and spring onions for 30 seconds. Add the sesame paste (tahini or peanut butter), soy sauce, chilli oil, salt and chicken stock and simmer for 4 minutes.

Cook the noodles in a large pan of salted boiling water for 2 minutes if they are fresh, or 5 minutes if they are dried. Drain the noodles well in a colander. Divide the noodles into individual bowls. Ladle over the sauce, garnish with the fried pork, Sichuan peppercorns, chopped chilli (if using) and coriander, and serve at once.