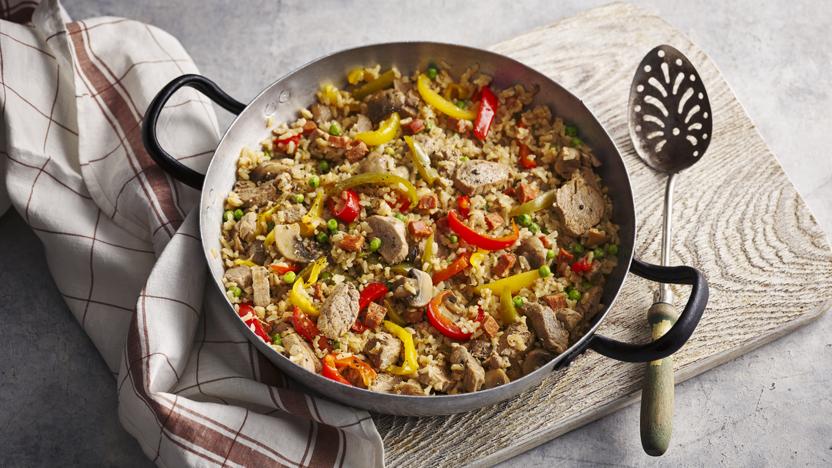 Choose a wide-based pan with a lid for this all-in-one spicy pork dish. Use any of your favourite – or leftover – vegetables instead if you like and swap the pork for chicken thigh fillets if preferred.


Ingredients
2 tsp olive oil
450g/1lb pork tenderloin fillet, trimmed, halved lengthways and cut into 1cm/½in slices
1 onion, chopped
50g/1¾oz chorizo sausage, skin removed, chopped
175g/6oz small chestnut mushrooms, halved, or quartered if large
2 garlic cloves, thinly sliced
½–1 tsp hot smoked paprika
125g/4½oz brown basmati rice
1 litre/1¾ pint chicken or pork stock, made with 1 stock cube
3 small peppers (any colour), seeds removed, sliced
100g/3½oz frozen peas
salt and freshly ground black pepper
Method
Heat the oil in a large, deep sauté pan or shallow flameproof casserole over a high heat. Season the pork with salt and pepper and fry for about 2 minutes, stirring. Add the onion, chorizo and mushrooms to the pan and fry for a further 5 minutes, or until the onion is softened and the pork and mushrooms are lightly browned, stirring regularly. Stir in the garlic and paprika, according to taste, and cook for 2 minutes more, stirring.

Stir in the rice, then pour in all the stock. Bring to the boil, reduce the heat slightly, cover with a lid and simmer over a medium heat for about 15 minutes, stirring once or twice.

Stir in the peppers and cook for a further 15–20 minutes, or until the rice is tender, stirring occasionally.

Add the peas, increase the heat and cook uncovered for about 3 minutes, or until the peas are tender and the liquid is almost all absorbed, stirring once. Season to taste and serve.
Recipe Tips
Avoid stirring the rice too much towards the end of the cooking time as it could begin to break up.
Stir in a handful of finely chopped fresh parsley or coriander at the end of the cooking time if you like.