Spicy lentil soup (sambar)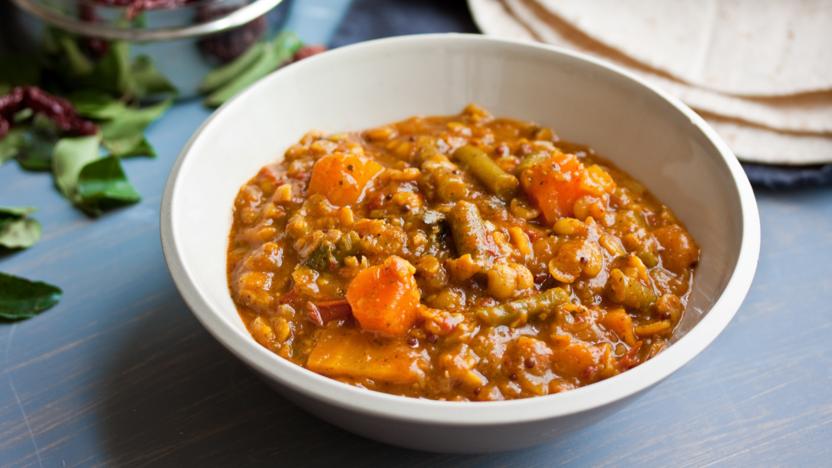 This easy lentil soup is packed with vegetables and topped with a 'tarka' of fried onions with spices. Sambar is vegan and gluten-free, and is traditionally served over rice or with dosas or idlis in Tamil Nadu.

This meal, if served as six portions, provides 192kcal, 5g protein, 16g carbohydrate (of which 5.5g sugars), 11g fat (of which 1.5g saturates), 4g fibre and 1.3g salt.

Ingredients
For the vegetables
For the masala
For the tarka
Method
For the vegetables, pour 1.5 litres/2½ pints of water into a large, deep pan and bring to the boil. Add the tur dal, onion, carrots, pumpkin, green beans and tomato and lower the heat to medium-low. Simmer uncovered for 30 minutes. Stir in the turmeric, sugar and salt and simmer gently for a further 15 minutes, or until the dal is soft.

For the masala, heat the vegetable oil in a frying pan over a medium heat. Once hot, add the rest of the masala ingredients and fry for 30 seconds to one minute, or until fragrant. Tip them into a spice grinder or mini food processor, along with the oil, and blend to a paste. Stir the paste into the pan of vegetables.

For the tarka, heat the oil in a clean frying pan over a medium heat and fry the tarka ingredients for 10 minutes, or until the onion is softened and golden-brown. Stir this into the pan with the vegetables, along with any oil, and serve.
This recipe is from...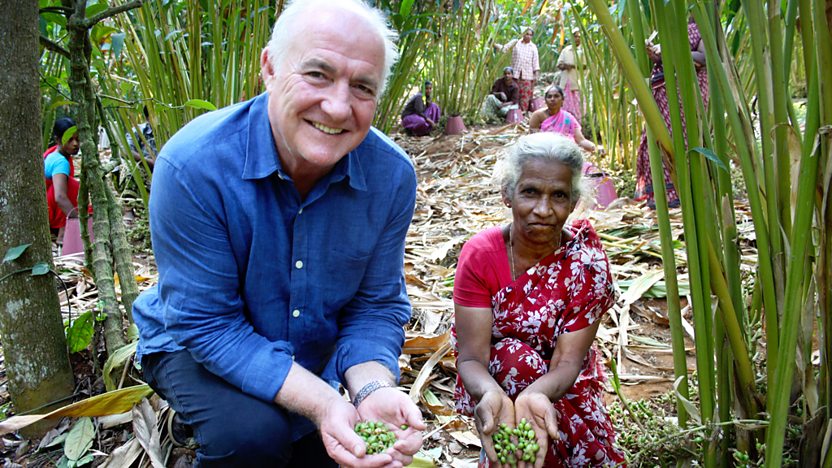 Rick Stein's India
Episode 3
Recipes from this episode