Spicy lamb albondigas (meatballs)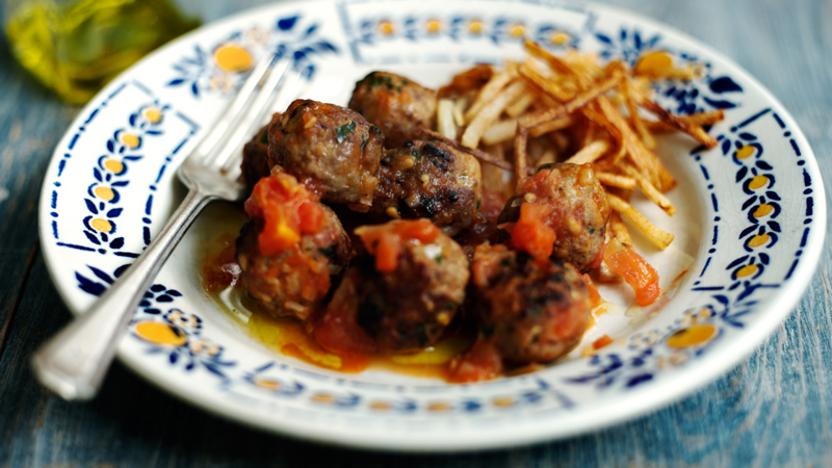 Try this recipe for authentic Spanish meatballs served with crispy patatas fritas.
Ingredients
For the albondigas
For the sauce
For the patatas fritas
To serve
Method
For the albondigas, soak the bread in the milk for five minutes, then squeeze out the excess milk.

Place the bread, ham, lamb mince, garlic, spices, parsley and seasoning into a bowl and mix until well combined.

Shape the mixture into approximately 40 meatballs (each weighing about 20g/¾oz).

Heat the oil in a frying pan and fry the meatballs for 4-5 minutes, or until golden-brown all over. (You may need to do this in batches.)

For the sauce, heat the olive oil a frying pan and fry the shallots, garlic and chilli for 8-10 minutes, or until softened.

Add the tomatoes, sherry, stock, bay leaves, salt and pepper and simmer gently, stirring now and then, for one hour, or until the sauce has reduced and thickened.

Add the meatballs and simmer gently for five minutes or until heated through. Discard the bay leaves.

Meanwhile, for the patatas fritas, heat a deep fat fryer to 120C/250F.

Cook the potatoes for two minutes, then remove them from the oil. Increase the temperature to 180C/350F and cook the potatoes for a further 4-5 minutes, or until pale golden-brown. Remove the patatas fritas from the fryer and set aside to drain on kitchen paper. Season with salt.

To serve, spoon the meatballs onto a plate, scatter with a little chopped parsley and drizzle with a little more olive oil. Serve with the patatas fritas.