Spinach and chickpeas with bread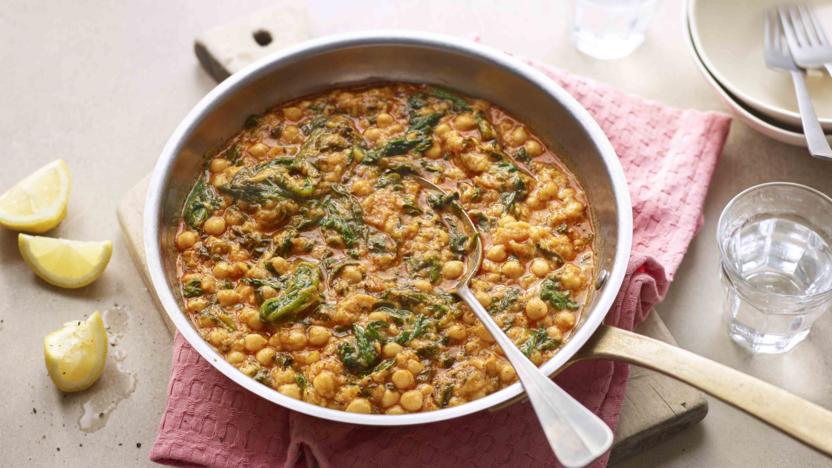 An easy, comforting, cheap go-to dish packed with store cupboard and freezer staples.

Method
Heat the oil in a frying pan. Add the chickpeas, garlic, ginger, paprika, cumin and turmeric, and cook for 3–4 minutes. If it starts to stick to the bottom add a little stock.

Add the bread and spinach and stir well. Add the stock, season with salt and pepper, and bring to the boil. Reduce the heat and simmer for 20–30 minutes.

Squeeze in the lemon juice just before serving hot or cold.
Recipe Tips
You can use dried beans instead of tinned, but make sure you soak them overnight then boil them the following day according to the packet instructions before adding them to the dish. You can make garlic paste ahead of time and freeze it in ice cube trays: put a bulb of garlic into a food processor with a touch of water and blend it to a paste (you can do the same with the fresh root ginger).
In March 2022 this recipe was costed at an average of £4.09 (using spinach) and £3.28 (using kale) when checking prices at four UK supermarkets. This recipe is designed to be made in conjunction with a low-cost store-cupboard, for more details click here to see how our budget recipes were costed.
This recipe is from...
Recipes from this episode