Spiced slow-cooked mutton with Mexican chillies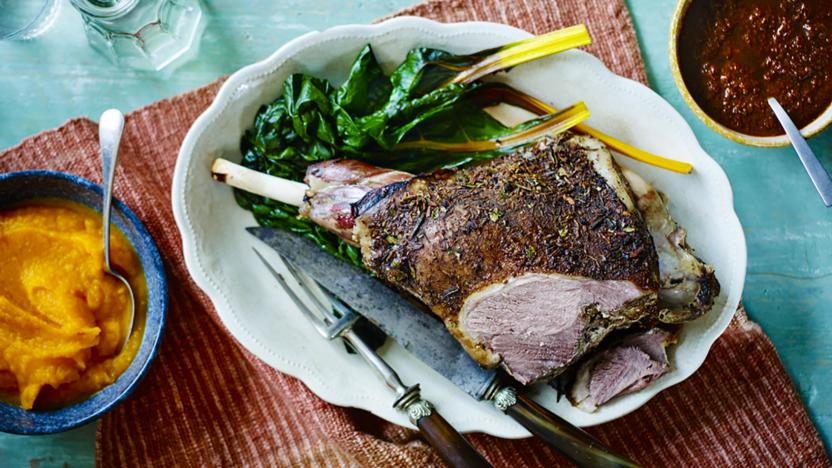 A leg of lamb is given a Mexican kick with potent spices and chillies. It needs to be prepared a few hours in advance but there's no tricky techniques involved.

This meal, if served as six portions, provides 646kcal, 64g protein, 19g carbohydrate (of which 12g sugars), 29g fat (of which 11g saturates), 5g fibre and 0.8g salt.
Ingredients
For the spice mix
For the spiced mutton
For the squash and chard
Method
For the spice mix, grind all of the spice mix ingredients to a powder in a spice grinder or pestle and mortar.

For the spiced mutton, rub the spice mix all over the mutton leg, then season with plenty of salt and freshly ground black pepper. Cover loosely with cling film, then chill in the fridge overnight (or for at least 4 hours).

Preheat the oven to 150C/130C Fan/Gas 2.

Mix together the carrots, onions, garlic and chillies in a roasting tray. Pour over the red wine. Place the spiced mutton leg on top of the vegetables, then cover the tray with aluminium foil and roast in the oven for 3½-4 hours, or until the meat is tender and almost falling off the bone.

Wrap the mutton in aluminium foil and set aside on a large chopping board, to rest. Keep warm.

Meanwhile, pour the contents of the roasting tray into a jug, then blend to a smooth purée using a hand-held blender. Return the purée to the roasting tray and heat over a medium heat on the stove-top. Stir in the redcurrant jelly, then season, to taste, with salt and freshly ground black pepper if needed.

For the squash and chard, steam the butternut squash wedges for 18-20 minutes, or until tender.

Transfer the steamed squash to a food processor, add a tablespoon of the olive oil, then season, to taste, with salt and freshly ground black pepper. Blend to a smooth purée.

Heat the remaining tablespoon of oil to a large frying pan set over a medium heat. Add the chard and stir-fry for 1-2 minutes, or until just wilted.

To serve, spoon the squash purée into the centre of 4 serving plates and flatten into a circle using the back of a spoon. Carve the spiced mutton leg and place a few slices on top of each portion of squash. Spoon the wilted chard on top of the mutton.
Recipe Tips
Any leftover lamb can be used in a shepherd's pie.