Spiced puffed rice chicken goujons with sweet potato wedges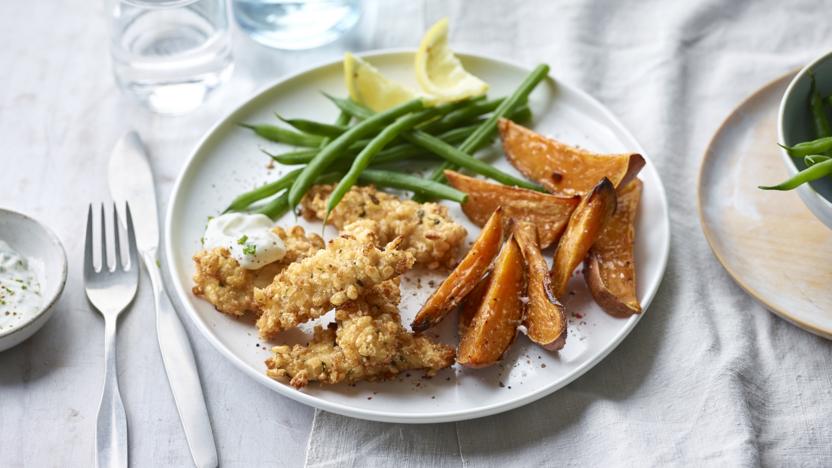 Puffed rice isn't just for breakfast! Here, it's mixed with fresh thyme to make a tasty crunchy coating for chicken goujons. Served with green beans and sweet potato wedges, you get two portions of your 5-a-day per serving in this healthier version of a classic breaded chicken and chips supper.

Each serving provides 427 kcal, 34.5g protein, 56g carbohydrate (of which 10g sugars), 5g fat (of which 1.5g saturates), 10g fibre and 0.9g salt.
Method
Preheat the oven to 200C/180C Fan/Gas 6 and line two large baking trays with baking paper.

Tip the sweet potato wedges onto one of the trays and drizzle with the olive oil. Season well with black pepper and toss, then spread out in a single layer. Roast for 10 minutes while you prepare the chicken.

Tip the flour, garlic granules and salt into a bowl and finely grate the lemon zest over the top, then mix well. Crack the eggs into a second bowl, add the smoked paprika and plenty of black pepper and beat together. Tip the puffed rice cereal into a third bowl, add the thyme and stir well, then scrunch the puffed rice in your hands to break it up slightly.

Coat the chicken strips in the flour, ensuring they are completely coated, then dip them into the beaten egg mixture. (Do a few at a time, as you don't want to end up with sticky fingers.) Transfer them, a few at a time, to the puffed rice and toss until coated, then transfer to the second tray in a single layer. Repeat until all the chicken is coated.

Stir the sweet potato wedges, then return to the oven with the tray of chicken strips and bake for 15 minutes, or until the chicken is golden brown and cooked through and the wedges are tender.

A few minutes before the chicken and wedges are ready, cook the green beans in a saucepan of boiling water for 3 minutes until just tender, then drain. Cut the lemon into five wedges.

Serve the chicken goujons and potato wedges with the green beans and lemon wedges.
Recipe Tips
You can spice this up a little if you like – simply add a teaspoon of dried chilli flakes to the puffed rice cereal.
Stir some snipped chives through a little 0%-fat Greek-style yoghurt, and serve with the goujons and wedges, if you like.
If you prefer, you can use dried thyme instead of fresh, but use about half the amount.